Otto; or Up with Dead People
(2008)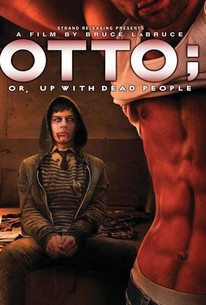 Otto; or Up with Dead People Photos
Movie Info
An gay teenage zombie falls in with a pretentious experimental filmmaker who casts him in a politically themed porno while documenting his experiences as a walking corpse in this existential gut-muncher from Canadian provocateur Bruce LaBruce. Adorable twink Otto (Jey Crisfar) was wandering the streets of Berlin and feasting on road-kill when avant-garde filmmaker Medea Yarn recruited him to appear in her latest film, a porno-political-zombie flick set during the gay zombie uprising. Gradually, over the course of shooting, Medea's interest in Otto grows and she decides to make a documentary about him. Flattered by the attention lavished upon him by both the filmmaker and his smitten fellow cast-members, Otto suddenly finds his life -- or death -- gaining a newfound sense of purpose.
Critic Reviews for Otto; or Up with Dead People
Audience Reviews for Otto; or Up with Dead People
½
This film does a terrific job at eliminating audience members - weeding out the weak. Do not watch this film if you can't handle: gratuitous gore of the intestine eating sort, explicit gay sex (between zombies using fresh improvised gashes as sexual orifices), frequent cross-cutting of "reality" and "film", and dedicating major segments of the film to an art house indie director criticizing art house and non-mainstream film. But if you're a weirdo like me and think all of that sounds like a hella good time, you will or will not be disappointed ;) Some things that are truly outstanding here: the director character's lover is constantly encapsulated in a bubble of silent film; the lengths to which this director goes to be "avant garde" and the heights to which those attempts accidentally succeed and the hilarious depths to which they intentionally fail. Otto, the main zombie character, is constantly battling for a sense of identity, and his story juxtaposed and interweaving with this director's vision (Up With Dead People is the title of her film) makes the titling very apt (which the title itself is a wink-wink nudge-nudge satirical jab at fringe cinema). Ultimately, this is not so much a film about zombies as it is a film about film; the zombie aspect is merely used as fuel for probing the subject of identity in both the personal and social arena. Hot Gay Sex notes: for those looking to avoid poorly done zombie sex and see hardcore human/human (in appearance) gay male sex in the context of narrative feature, around 1:20:00 is the best example; beyond that you're on your own and in for some zombie/zombie, zombie/human combos
_kelly .King
Super Reviewer
Stupid, annoying, "knowingly" pretentious, but also playful, sexy, clever and sometimes moving. Bruce La Bruce's messy film has lofty intentions that it simply doesn't come close to achieving (it especially falls short in trying to use the persecution of gay zombies as a metaphor for homophobia). However, there are some game performances (Jey Crisfar, as Otto, is actually quite subdued but very watchable, whilst everyone else is campy or hammy), some interesting technical bits and pieces (including a mute character perpetually seen in scratchy black and white footage with inter-titles, for no apparent good reason other than to comment on how pretentious film can be), lots of laughs and some occasionally good, though overdone, doses of irony. The bleak false ending and the almost as bleak actual ending are striking, the gore flows, the sex is hot and/or disturbing (including one guy fucking his undead boyfriend through his chest cavity). Prudes and/or homophobes - i.e. anyone who doesn't want to see a cock in another man's mouth, even if in context - should not watch.
Daniel Parsons
Super Reviewer
More than anything else, I think this film spoofs pretentious film directors who only like to make artsy-fartsy documentaries where they deal with more or less deep subject matters (being a zombie) through what they consider to be really thought-provoking means (gay porn). Don't despair during the first half an hour, the film becomes much clearer towards the end.
vieras esine
Super Reviewer
Otto; or Up with Dead People Quotes
There are no approved quotes yet for this movie.