Our Hospitality
(1923)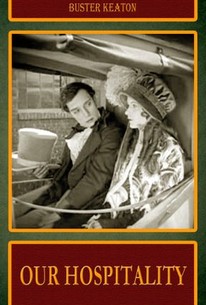 Movie Info
In this film, Buster Keaton travels down South to take charge of his family mansion. En route, Keaton befriends pretty Natalie Talmadge, who invites him to dinner. However, Keaton soon learns that he is the last surviving member of a family with whom Talmadge's kin have been feuding for years.
Critic Reviews for Our Hospitality
Audience Reviews for Our Hospitality
There are many amusing moments here (the bumpy train, the dangerous river ride, Keaton afraid of leaving his foes' house and be killed) and a good eye for props and elements (the dandy horse, the tunnel shaped like a train) that make this a funny, enjoyable comedy.
Carlos Magalhães
Super Reviewer
A man journeys to the South to claim his inheritance, but he falls in love with the daughter of a rival family along the way. One of the stunts during the third act is one of Keaton's most amazing physical achievements in a career of amazing physical achievements. Considering the time this film was made and the technology available, I am always in awe of Keaton's technical prowess no matter what film I'm watching. The story is a satire of Southern codes of honor, one of the first times I've seen Keaton criticizing Southern mores, and the result produces some madcap ridiculousness. Overall, Our Hospitality is funny, entertaining, and contains some vintage Keaton, a master of the silent medium.
Jim Hunter
Super Reviewer
Keaton gets in the middle of a family feud, hilarity ensues.
Our Hospitality Quotes
There are no approved quotes yet for this movie.