Our Lady of the Assassins
(2001)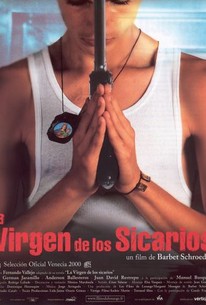 Our Lady of the Assassins Photos
Movie Info
A middle-aged man wanting to revisit the city of his birth discovers time and corruption have taken a terrible toll in this drama. Fernando (German Jaramillo) is a successful gay writer who was born in Medellín, Colombia, but has lived in Europe for the past 30 years. Feeling jaded and uninspired, Fernando decides to return to Colombia after the death of his sister, who was the last surviving member of his immediate family. Fernando remembers the Medellín of his youth as a beautiful place, but now the city is the capital of the international drug trade, and crime and urban sprawl have made it a harsh and dangerous place to live. At a party, Fernando meets Alexis (Anderson Ballesteros), a member of a teenage street gang. The two soon strike up a friendship, as Fernando tries to show Alexis what's left of the city he once knew, and Alexis teaches Fernando the grim realities of life and death on the streets. Fernando and Alexis become lovers, but despite their affection for each other, Fernando does not fully understand the dangerous and volatile nature of life in the new Medellín, which leads him into grave danger. La Virgen de los Sicarios was written for the screen by Fernando Vallejo, based on his novel. Director Barbet Schroeder shot the film on location in Medellín, using a digital video camera in order to speed up production in the notoriously dangerous city. ~ Mark Deming, Rovi
Rating:
R (for strong violence, language, sexuality and drug content)
Genre:
, , ,
Directed By:
Written By:
In Theaters:
On DVD:
Runtime:
Studio:
Critic Reviews for Our Lady of the Assassins
Audience Reviews for Our Lady of the Assassins
My top favorite movie because it expresses itself eloquently what someone passing their prime and a transplant in foreign country goes through.
Jacob Demetrius
Real, Raw, Contrary to others who deemed this film as lacking, I appreciated the non-movie quality, almost documentary POV. This is a raw look at life in a world where children have learned to survive by adapting to the drug influenced violent environment of Medellín, Columbia. The guilt free ease in which they take each others lives is a reflection and commentary of the senseless murdering enacted by leaders of our world today. Alexis (Anderson Ballesteros) and Fernando played by German Jaramillo... The shallow underdeveloped characters and dialogue are authentic and pleasing, further hammering home this disturbing portrait of humanity through the eyes of a man who has come home to "die". What can one expect from a 40 something and a 16 year old gang boy. Their interactions and loving are nuance rich but ( as I like) ask me the viewer to fill in the depth of what if anything these two who are worlds and ages apart could feel for one another. I project/judge they were clinging on to one another for some sense of being loved in a world that had showed them little. They don't know how to be lovers, but they do love each other and that is perfect. For me comparing destroys loving, I loved "Chronically Unsustainable" and could have compared it as they are of similar genre. I choose to take one film at a time and invite you to enjoy "Our Lady of The Assassins" for what it is and not what you expect or demand it to be. -Alter'Nathan
Alter Nathan
½
*** (out of four) Alex is a sixteen year old boy who lives in a boys brothel in the city of Medellin. He is used to living and killing in the streets. He becomes involved with a writer who has recently returned to the city. Not easy subject matter, but extremely well made film with great performances.
Steve Smith
Our Lady of the Assassins Quotes
There are no approved quotes yet for this movie.