Our Town
(1977)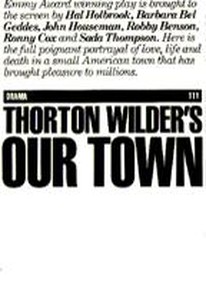 AUDIENCE SCORE
Critic Consensus: No consensus yet.
Movie Info
This videotaped version of Thornton Wilder's Pulitzer-winning play stars Hal Holbrook as the Stage Manager. Acting as narrator and assuming several different interlocutory roles throughout the production, Holbrook shows us life in Grovers Corners, New Hampshire, in the first few years of the 20th century.
Critic Reviews for Our Town
There are no critic reviews yet for Our Town. Keep checking Rotten Tomatoes for updates!
Audience Reviews for Our Town
½
70%---Made for TV, I do not like stage plays in any format. Undoubtedly this is for fans of stage plays, but it is not for me. Hal Holbrook is undoubtedly the most underrated, unappreciated actor of our past century. [img]http://t3.gstatic.com/images?q=tbn:ANd9GcQq8j7ZmNz7hX_f1OVjT1_uJQ4Fqjcz71UJQyrhxeupQeJsLGIa1A[/img] SEE the beginning here: www.youtube.com/watch?v=0tx99H9DA2s I would recommend strongly his Mark Twain Tonight to see exactly what I mean. [img]http://t1.gstatic.com/images?q=tbn:ANd9GcSul9pTZbSb5NuOpQtLGGsbmkwIShOih82ryXd2VxfWTfQA2DNM[/img] You can see ALL of Mark Twain Tonight here (and thank God for that) http://www.youtube.com/watch?v=PNql_eRsWJo
monsieur rick
Two! Two! Two reviews in one! Okay, so I haven't seen the Hal Holbrook production in a [i]really[/i] long time--though I did add it to my library hold list this evening. It's not available on DVD, and Amazon wants something like $80 for a VHS copy. And I can't just borrow it from Mr. Garden anymore as we borrowed it when he was still one of my teachers. He's roughly 1000 miles away. But I do like it better than the recent Newman production. For one, the guy playing George in the Newman looked funny. Robby Benson's no heartthrob, but he didn't look flat weird. And while, yes, several of the Holbrook cast members turn out to have been on [i]Law & Order[/i] since, and yes, Mrs. Garrett is in it, I went through the entire cast list of the Newman and found something like half a dozen people--and that including Newman and Curtin--who [i]hadn't[/i] been on one franchise or another of it, and in many cases several. (That show is awfully fond of recycling actors.) It's hard, now, to put into words why I like the one better than the other. Yes, part of it is my deep fondness of Robby Benson. Another part of it is that the not-sets were better, I think. But I think the Holbrook cast just sold it better. My affection for Robby Benson is partly [i]because[/i] he sold George Gibbs so. I [i]believed[/i] that he wanted to be a farmer on Uncle Luke's farm. The play is a bit of a specialized taste. It's not everyone who has a taste for the not-sets. It's not everyone who gets Thornton Wilder's style. Still, I do feel it's pretty universal in flavour. As I said in my review of [i]OT[/i], it's about life. It's about people being born, growing up, getting married, and dying. I'm just glad no one since the original (screenplay actually by Thornton Wilder) has changed the ending. It loses its strength when you do that.
Edith Nelson
Our Town Quotes
There are no approved quotes yet for this movie.
Discussion Forum
Discuss Our Town on our Movie forum!