Our Vines Have Tender Grapes
(1945)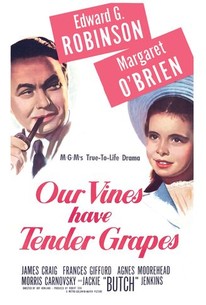 AUDIENCE SCORE
Critic Consensus: No consensus yet.
Our Vines Have Tender Grapes Photos
Movie Info
An earnest rural melodrama set among Norwegian immigrants in Wisconsin, Our Vines Have Tender Grapes is a slightly updated version of George Victor Martin's 1940 novel. Edward G. Robinson stars as Martinius Jacobson, a farmer devoted to his wife Bruna (Agnes Moorehead) and precocious seven-year-old daughter Selma (Margaret O'Brien), whom he lovingly calls "Jente Mi." Along with her freckle-faced five-year-old cousin, Arnold (Jackie "Butch" Jenkins), Selma lives a carefree, joyous life, which is only temporarily clouded by the sudden death of Ingeborg Jensen (Dorothy Morris), an emotionally disturbed young women whose stern father (Charles Middleton) had refused to let her attend school despite the pleas of newly arrived schoolmarm Viola Johnson (Frances Gifford). The latter is quietly falling in love with Nels Halvorson (James Craig), the town newspaper editor, but cannot envision herself as a rural wife. She changes her mind when, inspired by young Selma, the entire town of Fuller Junction come to the aid of Bjorn Bjornson (Morris Carnovsky), who has lost his livestock when lightning struck a newly erected barn. When Selma generously donates her pet calf to the impoverished farmer, the townspeople in general, and Martinius in particular, follow suit, prompting Viola to reconsider her harsh views of country life and retract her letter of resignation to the school board.
Rating:
NR
Genre:
,
Directed By:
Written By:
In Theaters:
On DVD:
Runtime:
Studio:
MGM
Critic Reviews for Our Vines Have Tender Grapes
There are no critic reviews yet for Our Vines Have Tender Grapes. Keep checking Rotten Tomatoes for updates!
Audience Reviews for Our Vines Have Tender Grapes
Syrupy goings on with a nice message but it's presented in such a sticky way it's hard to take. Butch Jenkins plays an odious little brat and Margaret O'Brien is too precious for words.
What a beautiful, down to Earth story. Grab the Kleenex and enter a more simple time. Having grown up in the midwest in the 50's I know this is accurate portrayal of a great time in our country's history, Kind and gentle, human and a delight for a Sunday afternoon. Even today's CG spoiled kids will love this one.
ken karlson
I think this film is deceptively good. Judging based on the title alone: OUR VINES HAVE TENDER GRAPES - you might imagine a saccharine family drama. It is that, in some ways - but there is also a much darker side to Dalton Trumbo's script (which on several occasions the subject of death is very much present) to offset the film's sugary side and gives the viewer food for thought. I don't really have anything bad to say about little Margaret O'Brien. If you have seen (and loved) Vincent Minelli's MEET ME IN ST. LOUIS - you probably are a fan of Margaret O'Brien. I think she is terrific here also as Selma, the young daughter of Wisconsin farmer Martinius Jacobson (Edward G. Robinson) and his wife Bruna (Agnes Moorehead). They live in a rural community - most of whom are descendants of Norwegian immigrants. This is a coming of age type film. Precociousness may not be the right word to describe her personality...but Selma is just starting to leave the complete innocence of childhood behind her and becoming aware that the world is not all bread and roses - finding out all too well that life sometimes isn't fair. Learning to cope with the curves that life throws at you...and how one can always make one's life better - for yourself and others. I think this is the main theme here... I think the theme presents itself nicely in one sequence of events: starting with Selma's argument with her freckled-faced cousin Arnold (Jackie Jenkins) over the use of her roller skates. A lie results in Selma being unfairly punished by her father. Martinius feels remorseful about her daughter's punishment...so he decides to make it up to her by waking her up in the middle of the night so they can watch the circus pass through town...only to discover that all the circus animals are travelling in enclosed trucks and cannot be seen. Martinius has to "bribe" an elephant handler so Selma can, at least... see an elephant. But Selma's gleeful reaction makes it all worthwhile - even for the cynical handler, who cracks a smile. Edward G. Robinson shows he can play a caring father just as well as a cold-blooded gangster. He and little Margaret team up very well in this...along with Agnes Moorehead as the mom. OUR VINES HAVE TENDER GRAPES was released near the end of WWII...and war inevitably is a theme touched upon in the film also. The town newspaper editor, Nels Halvorsen (James Craig) decides to join the army despite a disability. He has also fallen in love with the new school teacher, Viola Johnson (Frances Gifford), a big city girl unaccustomed to rural living. All in all...Jeepers!!! It's such a nice film. 8
bernard anselmo
Our Vines Have Tender Grapes Quotes
There are no approved quotes yet for this movie.
Discussion Forum
Discuss Our Vines Have Tender Grapes on our Movie forum!