Outlaw Trail
(2007)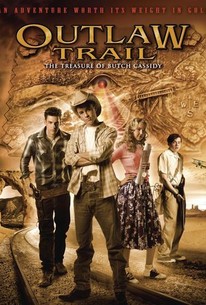 AUDIENCE SCORE
Critic Consensus: No consensus yet.
Movie Info
The great nephew of famed outlaw Butch Cassidy sets out to redeem the family name and discover his distant uncle's true fate in this Wild West adventure for the entire family. Legend has it that Cassidy died during a late night gunfight in Bolivia, but some historians remain convinced that the elusive outlaw eventually managed to make his way back to the United States - where he was rumored to have lived well into old age. When inquisitive teen Roy Parker discovers an antique belt buckle that once belonged to his notorious uncle, he makes it his mission to uncover the truth about his Great Uncle Leroy and finally lay the legend to rest. But dispelling old rumors isn't Roy's only motivation, because Great Uncle Leroy was said to have hidden a rather substantial buried treasure before his death as well. Now, as Roy, his best friend, the girl of his dreams, and his arch nemesis set out to solve the greatest mystery of the Old West, they quickly find themselves forced to outrun a dastardly varmint who is intent on claiming the treasure as his own.
Audience Reviews for Outlaw Trail
A family friendly movie that plays more like a television movie than a theatrical release. Story is simple and easy to follow. Acting is okay; no one stands out in the performance category. Arielle Kebbel, the reason I chose to watch this western to begin with, is simply charming as the female cohort. There are dangerous situations, but even these feel as if there is no possible way that anything too terrible is going to happen. Almost like watching an episode of Little House on the Prairie.
Don Schick
The target audience for this movie is a very small one: 8-year-olds who are obsessed with cowboys. If you do not fit that description, this movie is not for you. The acting is laughably bad and the plot is super predictable. I didn't enjoy anything about this.
Amanda Hendsbee
½
pretty good for a Hallmarky film that had a cheesy ending. My fav part has to be the freind of the main character.
Josh Ellis
Outlaw Trail Quotes
There are no approved quotes yet for this movie.
Discussion Forum
Discuss Outlaw Trail on our Movie forum!