Outpost: Black Sun
(2012)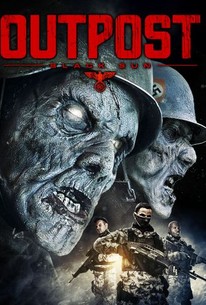 Outpost: Black Sun Photos
Movie Info
As a rapidly-growing army of Nazi zombies gain an advantage over the military unit dispatched to eliminate the undead threat, two investigators team up with an elite Special Forces Unit to slip behind enemy lines and destroy the hi tech device that heralds the rise of the 4th Reich.
Rating:
NR
Genre:
,
Directed By:
Written By:
In Theaters:
On DVD:
Runtime:
Studio:
Anderson Digital
Critic Reviews for Outpost: Black Sun
Audience Reviews for Outpost: Black Sun
Second effort from the entertaining Outpost gives a more detailed plot than the original, yet retains the same ingredients that made the first one well worth seeing. The cast do a good job in their respective roles, and the script is fairly tightly written with plenty of intricate passages to make things quite interesting for the viewer. As a Sci Fi horror film, OutPost: Black Sun works well enough even if it doesn't do anything to elevate the series to new heights of excitement. The norm here is good, and it is a skillfully crafted sequel to an otherwise quite simple first film. What stands out again is the gore and outright gore splatter fest that ensues. This is a must for gore hounds everywhere, and it's a film is just as entertaining as the first picture. Outpost: Black Sun is far from a great horror film, but for a low budget production, it has more heart than many of big Hollywood rehashes that are simply cash cows to make a quick buck. Films like this deserve attention because the level creativity involved in the making of film is skillfully done so as to attract old and new horror fans. The formula here works, simple idea, thoroughly entertaining, and that's how the genre should really. The emphasis on pure shocks and thrills in this follow-up make this a riveting horror yarn that should delight traditional horror hounds that crave something different and in a way it's nothing new either, but the way the material is tackled well enough to grab your attention, makes you not care about the films
A solid sequel to Outpost, Black Sun follows a military group as they attempt to battle the Nazi zombies raised in the first film and destroy the machine that created them before they can reignite the Nazi program of world conquest. Somewhat stupid but brutal, creepy, and action-packed, Black Sun is a fun sequel to a film that gave a somewhat unique twist to the Nazi-zombie subgenre.
Al Miller
While it's premise is beyond stupid, some of the acting is a bit sub-par, and the cliffhanger ending pissed me off, Outpost:Black Sun is still an entertaining B-movie experience due to some witty dialogue, gruesome action scenes, tense moments, and great make-up. I would actually be interested in seeing a sequel to this.
anders peter
Outpost: Black Sun Quotes
There are no approved quotes yet for this movie.