Outta Time
(2002)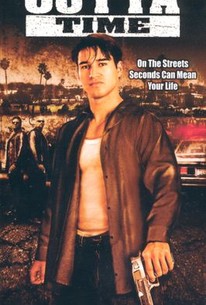 Movie Info
College soccer star David Morales (Mario Lopez) loses his scholarship and is compelled to take a job as a courier for an experimental medical laboratory operated by shady Dr. Darabont (John Saxon). The money is terrific and the border crossings from California into Mexico are easy for the charming Latino. But events turn desperate when David is forced to make a hasty delivery of a small cooler that contains something needed by the evil Franco (Richard Lynch), who is being kept alive in a Mexican hospice by the renegade physician Dr. Drake (Nancy O'Dell). If David fails, his mother (Dyana Ortelli) dies. But then the FBI gets wind of the delivery. Now on the run from the Feds, with his mother held hostage by a sex maniac, David teams up with runaway rich girl, Bella (Ali Landry), to get the cooler and its contents to Dr. Drake to keep a villain alive.
Critic Reviews for Outta Time
Audience Reviews for Outta Time
½
The acting wasn't great off and on and there were a few loop holes here and there but damn, Mario Lopez is beefy.
Sally Smiley
this movie is so stupid. teh plot doesnt make any sense. and mario lopez doesnt have any emotion at all!! dont see it. it should of been a tv movie cuz it sucks as a real one.
Lisa Shaw
Outta Time Quotes
There are no approved quotes yet for this movie.
Discussion Forum
Discuss Outta Time on our Movie forum!