Over There
(2005)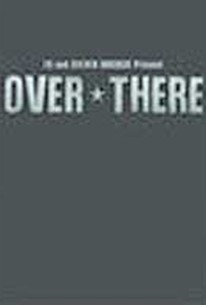 AUDIENCE SCORE
Critic Consensus: No consensus yet.
Movie Info
Rating:
NR
Genre:
,
On DVD:
Runtime:
Critic Reviews for Over There
All Critics (2) | Fresh (2) | Rotten (0) | DVD (1)
If you're willing to stick through the show's iffier first few hours, Over There pays off with first-rate drama.

The timely ground-breaking series is the first time that a drama about a war is going on while the U.S. is still waging the war ...
Raw, astonishing and compelling!
Audience Reviews for Over There
Over There reminds me of Generation Kill but not as gory. It's great because there's always good action to keep you excited mixed with soldier family drama. Although it's very likable, some of the drama scenes are over the top, so its kind of annoying at times. But overall this series is quite addictive if you like TV shows like Shoot Out and original series like Band of Brothers. I'll give this 4 stars because I really like it. Its something else good to look at and keep me entertained.
DJ Jackson
A very well done TV series that Flixter has decided to add to their movies... I made a formal suggestion to Flixster for them to add a TV movie/series of films, which apparently qualify as a TV miniseries bc it is on TV and bc it is has more than one episode ("The National Parks: America's Best Idea" - http://www.imdb.com/title/tt1464482/) and I get yelled at for making a suggestion that they saw as a TV show and I also got yelled at for telling them that they already added a TV miniseries! (Generation Kill - which they told me was removed from the site, which was a lie!! They never removed it and it is still there now!) The Flixter admins, the ones that I have dealt with, are a bunch of "do as I say, not as I do" flaming-hypocrites!!
Morpheus One
I'm pretty sure that when I turn on FX I'm 100% aware that I'm not really watching the war in Iraq. I know it's just a TV show. I read far to many criticizes about this show. So what if they are using a helicopter that would never be used in Iraq?? I don't. I'm not watching the show because I want to see the war, I'm watching it because I want to see the "boots on the ground". Yep, this show is for entertainment purposes, but they are trying to get a point across. I wouldn't be surprised if most of that point is being missed because people are to stuck on stupid non Army issued gear or other frivolous details that most American's get stuck on. For me, the number one point I got from the show is how the soldiers have to struggle with trying to stay alive and being socially correct at the same time with only few seconds to even think about the situation. [i]Over There[/i] is in no way trying to down play the war, they are just trying to help us understand. But like a majority of dumbass American's, who stand against things they know nothing about, they can't see past the fact it might not be accurate enough. [i]Over There[/i] may be a show, but it's about real people who are doing some very difficult things. But most people don't want look beneath the surface and face the truth. It's all to easy for some one to say "I'd never do that". Oh yeah? If you have that many people trying to kill you what would you do? My guess is get killed because they were scared to shitless to do anything. If you've never had to face death, it's easy to mock it. I have no doubt that the real soldiers over in Iraq have to face that everyday and that it's not just happening on TV. I thought "don't die" was the most important thing for soldiers to remember. Instead they have to face bureaucratic and public bullshit and take the time to actually think before they go into action. [i]Over There[/i] is a great show and I hope people don't miss the substance of what it's trying to show us.
Michelle Welling
Over There Quotes
There are no approved quotes yet for this movie.