Ovoce stromu rajskych jime (Fruit of Paradise)
(1970)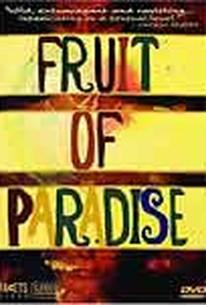 AUDIENCE SCORE
Critic Consensus: No consensus yet.
Movie Info
An experimental, densely symbolic retelling of Adam and Eve, Fruit of Paradise opens before "the Fall," as Josef and Eva wander nude through an Eden depicted through superimposing images of red, brown, and yellow leaves and flora over the two in a park. A choir chants the opening passages of Genesis over baroque music. The switch to the fallen world is marked by the choir chanting, "Tell me the truth," with increasing intensity. A new, clothed Josef and Eva (now played by Karel Novak and Jitka Novákova) lie on a park bench. The film focuses on Eva from this point on, as she explores her new surroundings, which resemble a kind of spa resort filled with wasteful, complacent idiots, and becomes obsessed with a red-suited serial killer named Robert (Jan Schmid). This new world of "truth" and opened eyes is seen using an alternatingly sensual and barren color palette. When Eva discovers Robert's identity, she feels removed from her previous self, alienated from Josef (now a philanderer), and desperate to return to her innocent state. But this is impossible. When Eva tries climbing back over the wall to Eden, once again repeating, "Tell me the truth," she can no longer communicate with Josef. She pushes a red flower she has offered to him toward the camera lens. ~ Michael Buening, Rovi
Rating:
NR
Genre:
, ,
Directed By:
Written By:
In Theaters:
On DVD:
Runtime:
Critic Reviews for Ovoce stromu rajskych jime (Fruit of Paradise)
There are no critic reviews yet for Ovoce stromu rajskych jime (Fruit of Paradise). Keep checking Rotten Tomatoes for updates!
Audience Reviews for Ovoce stromu rajskych jime (Fruit of Paradise)
[center][img]http://www.ce-review.org/01/17/images/kinoeye17_ovoce2.jpg[/img][/center] (DVD) (First Viewing, 2nd Chytilová film) Gone is the giddy anarchy of DAISIES (SEDMIKRASKY) as Czech New Wave icon Vera Chytilová opts for a more formal but equally audacious and experimental approach with FRUIT OF PARADISE, the film which followed several years later. Using the Biblical story of Adam and Eve as a reference point, Chytilová sets up an elaborate, symbol-laden allegory dealing with temptation, infidelity, and, I fully expect, political commentary and general subversiveness that went completely over my head. But even if the film itself seems deliberately obscure and overly cryptic, the amazing use of color and texture keeps the entire film in this kind of perpetual dream state that is fascinating to witness. The score, which incorporates everything from grand operatic choral work to the atonal is also quite amazing in its own right. Thankfully the image and audio quality of Facet's recent DVD release is excellent, but this seems to be a film meant to be seen on the big screen where the images and the sounds can achieve a kind of overpowering, hypnotic power over the viewer. I don't think that many will be able to buy into Chytilová's vision, and long stretches are deathly dull, but as a major fan of DAISES, I'm glad to finally have the opportunity to see it.
Jesse Last
A modern retelling of the Garden of Eden. Vera Chytilová again utilizes very unusual and interesting techniques, and veers away from a straightforward narrative, but this one doesn't have the same fun, freewheeling spirit as Daisies. Instead it gets bogged down with almost Maya Deren-esque imagery, and the threads it follows are rarely as engaging as they could be. I liked some parts (especially the wild intro) but it needs more oomph.
Martin Teller
I'm the first one to review this film, an odd beginning, but here it goes. Vera Chytilova's Fruit Of Paradise, is a lost masterpiece of a film. Lost because Chytilova was not permitted to make any films for decades, after her first film Daisies(an...(read more)other gem), was censored and banned by the Soviet/Czech government. These films show us a new language in cinema, that never got to develop. Her use of sound alone in this film puts her on par with Godard and Leone, her use of color is unlike anything I have ever seen(the first 10 minutes in Eden are a luminous collage of images, patterns, and live actors), and her sense of story(arguably her least accessible trait) is like Bunuel or Svankmajor(her fellow Czech), albeit with a distinctly feminist, whimsicle, slapstick bent. The story is an allegory of Adam and Eve, in a modern(made in 60's) Health Retreat. The action involves our heroin wandering the grounds where she becomes obsessed with a mysterious man in red, who may or may not be a killer. What follows is a fragmented story of awakening, it's pains and pleasures, but don't look more literally than that, like Lynch's Inland Empire, it's best to view this film topologically(on the surface), as an aesthetic object like a painting, rather than a cinematic tool for conveying a "message". Not that you cant or shouldn't get anything more out of this film, than a lesson in the expansive possibilities of film-making itself, but you get out of it, what you put into it. If you want to just watch the pretty colors, it's got that, if you want to argue about "ontological freedom and meaning", you could use this film as a trampoline, but that role rests here on the viewer. Chytilova's film's however cannot be accurately described by text, they have to be viewed, listened to puzzled over, drank with(a glass or two of wine), and then viewed again. If your looking for a novel experience in a sea of modern cinematic redundancy, the Fruit Of Paradise, is the food for you. If you want to watch realistic characters, exchange in pseudo-naturalistic dialoge about modern issues of social import, "Crash" can be found at your local blockbuster, if you've watched Maya Deren, Luis Bunuel, or Kenneth Anger, and said, why can't there be more films like this; then Netflix, steal, beg, borrow,(or try your local library), but find this film. That goes double for Chytilova's first film Daisies, which is as adventurous as this, but is more slapstick to this films baroque; basically a lot more fun
Joseph Sylvers
Ovoce stromu rajskych jime (Fruit of Paradise) Quotes
There are no approved quotes yet for this movie.