Oxyana
(2013)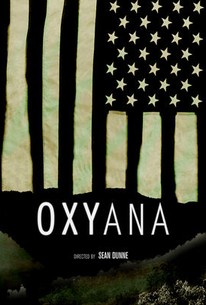 AUDIENCE SCORE
Critic Consensus: No consensus yet.
Movie Info
Sean Dunne's Oxyana examines how the collapse of the mining trade in town of Oceana, West Virginia, has led to widespread poverty and drug addiction, with OxyContin being the most abused substance. The film focuses on how the widespread addiction problems hamper attempts at rebuilding the town, and details how various sociological forces came together to bring the town to its current lowly condition.
Rating:
NR
Genre:
,
Runtime:
Critic Reviews for Oxyana
Audience Reviews for Oxyana
½
Drug addiction, particularly to prescription pain medication like OxyContin, has become so commonplace in Oceana, West Virginia that its residents simply refer to it as "Oxyana." This also serves as the title of a documentary in which director Sean Dunne turns his camera toward men and women, most of them addicts themselves, whose stories will shake you to your core. In Oxyana, husbands kill wives, children for pills. Mothers give up their babies. Women prostitute themselves. It's a horrifying tale made worse by the fact that there genuinely seems like nothing can be done to reverse the awful trends. Oxyana (the movie, not the town) is, more or less, your standard talking heads documentary. Dunne avoids the use of voiceover, but he almost always has his camera planted firmly in front of an Oceana resident. Sometimes that man or women is actually shooting up on camera. They're all so addicted that they can't go but a few hours without a fix before they start with the cold sweats and convulsing. Even when they aren't shooting up, however, their drug dependency is uncomfortably palpable. One resident in particular-a man who speaks faster than anyone I've ever met in my life-can't seem to sit still. He's one of Dunne's most visible contributors, and the one time over the course of the film during which he sits and calms down, he shares the film's most horrific story about a double murder within his family-empty prescription drug bottles strewn about the scene of the crime. When the film isn't focused directly on these individuals, it's soaking in the sights of Oceana, West Virginia. The film is predicated on the idea that this place-this desolate, miserable, hopeless place-is far worse a drug haven than you've ever seen before. Dunne's attention to detail is noteworthy. His approach-interspersing interviews with long, dialogue-free passages of scene-setting-sometimes slows the film's momentum. That said, Oxyana's score (courtesy of the band Deer Tick), which drives these scenes, is exceptional. Dunne's ability to coax such honesty and brutality from his interview subjects is simply remarkable. One of his other big accomplishments: the inexplicable way he almost makes drug use seem acceptable. "Just say no" isn't an option for the men and women of Oxyana because they're so dependent, they genuinely think they'll die. Are these people who deserve lengthy jail sentences for their addictions? At the very least, one has to concede that there's a case to be made against such treatment. There isn't a lick of hope in their town. It's almost as if they're already in prison... As is usually the case with the best anti-drug message movies, there isn't any mistaking Oxyana for the feel-good story of the year. You'll find yourself overcome with emotion on more than one occasion-simply the mark of a film and filmmaker on fire. Put plainly, Oxyana is a fantastic documentary that sheds light on a pressing American problem in a deeply personal way. Seek it out. http://www.johnlikesmovies.com/oxyana-review/
John Gilpatrick
Its worth the watch to get a glimpse into the horrible drug-infused lives of these small town West Virginians but there's definitely something lacking from the film. We never once hear any solid facts about the drug, only skewed views from users and bystanders. There should have been some follow up interviews or at least a rehab case, showing that there is an obtainable and positive end if you try hard enough. In addition, we aren't offered any solution to the problem at all. The "failure" of the war on drugs gets brought up at one point in the film yet its clear that this town's true problem stems from the family system and nothing else. If this film taught me anything other than the fact that drugs are bad, it's that family really does play a massive role in influencing an individual
Peter Iovanella
½
Raw, emotional, and heartbreaking at times, Sean Dunne's Oxyana shows the struggle and loss of drug-addiction in Oceania, West Virginia, a tiny mining town that has its 1,400 citizens succumbing to Oxycontin. With an atmospheric somber that's reminiscent to the eye-opening Kids (1995) by Larry Clark, the film depicts the struggle of addiction and plays nearly fifteen examples of life-shattering changes you would see in the first forty-five minutes of the A&E's hit-show "Intervention." While filmmaking style doesn't always hit the right chords and not offering any real resolutions or suggestions for fixing the problem, if anything, Oxyana shows the youth of the lost generation being picked off one by one as we remain helpless. There may be no real answer at this point in time for the problem to be fully resolved. Perhaps that's Dunne's brilliance in an almost waving the white flag sort of fashion. Some of the stories of these people are horrific and you can almost see sympathize with their reasoning for drug usage through their testimonies. The film is polished enough to open the door for discussion by political and movie-goers everywhere and emotional enough to warrant a reaction.
Clayton Davis
Oxyana Quotes
There are no approved quotes yet for this movie.