Oxygen
(1999)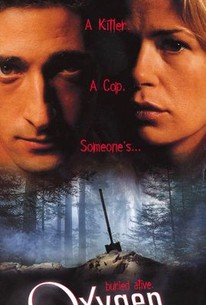 Movie Info
A police detective is on the trail of a psychopath while dealing with demons of her own in the crime thriller Oxygen. Madeline Foster (Maura Tierney) is a plainclothes detective with the NYPD who isn't especially happy with her job. She drowns her sorrows in alcohol and masochistic sex, though even her husband (Terry Kinney) is unaware of the full extent of her erotic obsessions. Madeline finds herself assigned to investigate an unusual kidnapping; Frances (Laila Robins), the wife of a prosperous businessman (James Naughton), has been kidnapped and buried alive. The perpetrators demand the ransom be paid within 24 hours, or the air will run out and Frances will be dead. Madeline surmises that the kidnapper is a career criminal known to the NYPD as "Harry Houdini" (Adrien Brody) for his remarkable ability to escape capture. It soon becomes clear that "Harry" knows who Madeline is, and for him this isn't an ordinary kidnapping but an elaborate psychological game; he is convinced they are alike in more ways than they're different, which makes it all the more fascinating for him. Oxygen received screenings at several 1999 film festivals, including Taos, Gen-Art and Cannes (market); it was later purchased by premium cable network HBO, who showed the film before it went into a limited theatrical run.
Critic Reviews for Oxygen
Audience Reviews for Oxygen
In my quest to see all things Maura Tierney has done, I came across this extremely dated "psychological thriller" that plays more like a TV movie of the week than a theatrical release. Tierney is always good,but she had so little to work with here you really couldn't tell. Brody overplays his role, and the bits about her broken psyche being like his because she enjoys pushing the line between pleasure and pain is more Psych 101 than actual thought process. Ho hum.
Don Schick
½
I'm often asked why I waste my time watching independant films. It's true, that many of them are a complete waste of time, but what I really enjoy about them is that it gives people the freedom to do what they want, without Hollywood turning it into something it's not, and occasionally, I find a movie like Oxygen. This film was just your ordinary story of the police fighting against the clock and an insane criminal, who gets off on fucking with them. It had a few twists here and there, but in general it was a very basic story, however what I did focus my attention on was the cast. Being that it's an independent film, two performers who I really enjoy watching, got to step away from their usual roles and try something different. Maura Tierney is usually cast as the emotionless girl with a troubled past, but in Oxygen, she's this crazy, self-loathing, tough as nails cop, who wears her emotions on her sleeve. She's opposed by Adrien Brody who usually plays the sweet, good-looking, exotic stranger, but not this time. In this film, Brody is a deranged psychopath who will do anything and everything to get what he wants. The dynamic and chemistry were both fantastic and I loved seeing two actors, that I know very well, step away from their usual roles and work on something different. If I hadn't seen both stars in a ton of things prior to this, I may not have been as entertained by this film, as the story is common, and very little is unpredictable, however the performances were tremendous and Tiereny and Brody compliment each other perfectly.
Todd Smith
Super Reviewer
CAST: Maura Tierney, Adrien Brody, Terry Kinney, James Naughton, Laila Robins, Dylan Baker, Paul Calderon DIRECTED BY: Richard Shepard SUMMARY: This made-for-cable mystery thriller stars Adrian Brody as an escape artist-kidnapper whose method of torture involves burying his prey alive. When he strikes again, Maura Tierney is the policewoman who must track down Brody within 24 hours before he lets the air out of another one of his victims' hiding places. MY THOUGHTS; "It is definitely like a nightmare come true, being buried alive... This movie was good.. It's got Adrien Brody, who in my opinion played bad very good.. Didn't really look like he could pull it off to me.. But he ended up proving me wrong.. I say his portrayal of his character is what kept this movie afloat.. There was a bit of over acting from Terry Kinney, or maybe I just didn't like his portrayal of the husband. Just didn't seem to fit. Maura Tierney was good as the dark cop. All in all it wasn't a bad watch to find flipping through the TV today. I am still a bit worried that I thought the part where they found the dog was funny? I don't know, I just found Adrien to be a funny psychopath. Anyways, this movie is worth the watch if you come across it."
♥˩ƳИИ ƜѲѲƉƧ♥
Super Reviewer
Oxygen Quotes
There are no approved quotes yet for this movie.
Discussion Forum
Discuss Oxygen on our Movie forum!