Ozone
(1993)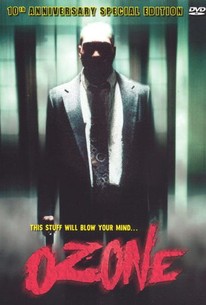 AUDIENCE SCORE
Critic Consensus: No consensus yet.
Movie Info
A cop arresting a drug dealer is stabbed with a syringe. He soon begins to see everybody around him turning into zombies, led by a mutant creature with the face of a pig. He believes himself to be hallucinating because of the drug he's been injected with, until he himself begins turning into one of the zombie creatures. He tries to find out what's behind all of this before he turns into a complete zombie.
Rating:
NR
Genre:
Directed By:
Written By:
In Theaters:
On DVD:
Runtime:
Studio:
The Suburban Tempe Company
Audience Reviews for Ozone
J.R. Bookwalter, who hails from my home town, makes really terrible movies. Now I only recently discovered this guy, and I have no idea why I've missed out on him so far. I have to thank my brother-in-law for giving me the heads up and lending me this awfulness. It is poorly shot (possibly on VHS), it has bad acting, cheap looking special effects, and a bad script about some kind of super drug being passed around the streets that turns folks into zombies. It is pretty atrocious, but kind of enjoyable for that very reason.
Ken Scheck
id say JR bookwalters 3rd best movie ever its a good plot even if some moments are cheesy i love watching labor of love little films it shows they have a heart! and arnt soulless like alot of big movies...
dylan steffan
½
[b]OZONE[/b] This came to us via the Dead and Rotting 4-Pack that is available in our [url="http://b-horror.net/dvdvhs-shop/"]store[/url]. There are a lot of crappy packs on Amazon, D&R is a good one - especially the feature, Dead and Rotting and this [url="http://www.tempevideo.com/bookwalter/"]JR Bookwalter[/url] effort, OZONE. Originally, this was supposed to be released under the Full Moon Pictures brand, however it was produced at the end of (Bookwalter's) Tempe Entertainmaint/Full Moon relationship. The quote above is a pretty accurate summary of what to expect from this in terms of content, so I'll focus on what this does good and what it does bad. On the good side of things, this is a really interesting movie. The acting is flat and bad, but the story carries it and the characters .. basically.. convey it somewhat convincingly with a little imagination on the part of the viewer. The special effects and gore are actually pretty good for a film of this caliber and I was quite impressed with a couple of the scenes' efforts.. especially the 'melting away' scene in the bathroom. On the bad side of things.. I'm not incredibly sure anything could be considered bad. Going into this, I knew I would be watching an [i]extremely [/i]low budget movie and in order to appreciate this, that knowledge is a must. The video is washed out, the lighting is terrible and the music is amateurish, but really does add to the movie overall. I really enjoyed OZONE and I think if you go in with the mindset that you're going to be watching a piece of crap A/V and acting-wise - you will too. This is one for the b horror purist, that's for sure.. but a good bit of disc nonetheless.
dave b
Ozone Quotes
There are no approved quotes yet for this movie.