Pagan Love Song
(1950)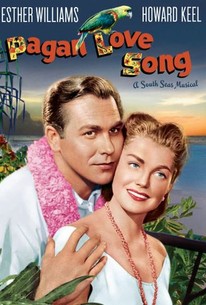 AUDIENCE SCORE
Critic Consensus: No consensus yet.
Movie Info
Set in splendiferous Tahiti, this musical chronicles the love affair between a handsome young plantation manager and a local beauty (Esther Williams) who dazzles him with her aqueous grace and charm.
Rating:
NR
Genre:
, ,
Directed By:
Written By:
In Theaters:
On DVD:
Runtime:
Studio:
MGM
Critic Reviews for Pagan Love Song
There are no critic reviews yet for Pagan Love Song. Keep checking Rotten Tomatoes for updates!
Audience Reviews for Pagan Love Song
Loved the scenery of Hawaii in this film. Beautiful. Pagan Love Song isn't the best musical out there but I love Howard Keel and Esther Williams isn't have bad. The music might have been better if it was Rogers and Hammerstein and not Arthur Freed. My favorite character was Hawaii which made me question why Mimi Bennett would ever want to leave it. If your interested in seeing Hawaii as it really is and enjoy Howard Keel or Esther Williams, this film will be diverting entertainment. www.what-to-watch.com
Laura Rachel
Pagan Love Song is a Technicolored xenophobic fantasy with lead actress Esther Williams looking striking in brown body makeup and two-piece outfits as the half-Tahitian, Mimi. Bass-voiced, douche Howard Keel is "Hap" Endicott, a teacher from the USA who just inherited some land with a bamboo shack on it and wants to kick back and become a native. Even though Mimi has plans to move to the States just as Hap is settling in, we know that they'll get together somehow. So far, you can clearly recognize just by reading the premise; this movie is plain dumb. Keel plays his character like a big, grinning lout who belts out some of the worst songs ever written while blundering his way around the island like a newborn giraffe. He gets along great with the natives, who are all portrayed as a bunch of addle-brained children themselves. Now as an individual with Tahitian descend, I found this portrayal and the overall film at times very offending and disgusting but the shallowness at times was so blunt, it lessened my irritation. Why? These folks obviously have no idea what Tahitian culture or any other Pacific culture is. I don't know what insulted my intelligence more; the fact the dance performed was actually Hawaiian or the Tahitians for some reason speak with a Midwestern accent, the list could probably go on forever. To make matters worse, Keel and Esther have about as much romantic chemistry as a couple of empty coconuts. After the movie has toddled along with nothing much going on until almost the end, an awkward and overly melodramatic plot twist is dropped right in the middle of it like an anvil in order to remind us that there's supposed to be a story. I don't think I have ever witnessed a more cringe-worthy climax leaving me in complete disbelief on how any film can stoop so overdramatically. In the end, "Pagan Love Song" is one of those Hollywood sappy films but times a hundred. Not only is it ignorant and dull but a racist atrocity that literally will drop anyone's IQ to mental unresponsive. Avoid like a plague. Story: F Acting: F Direction: F Visuals: F Overall: F No stars out of 4
Matthew Rodrigues
Super Reviewer
½
I like Esther Williams. She always look so hale and hearty in her films -a perfect example of feminine pulchritude. Her films are - more often than not - lightweight entertainment. Very lightweight. It doesn't get much lighter than PAGAN LOVE SONG. Unfortunately, it's also very bland despite the beautiful technicolor tropical scenery. I've seen maybe 6 of Esther's films and this one seems to be the snoozer of the lot. Alas, PAGAN LOVE SONG could have used the talents of a Busby Berkeley to jazz up some of the numbers. Mimi (Esther Williams) plays a hapa haole girl (half caucasian) bored of living on the islands (it's supposed to be Tahiti but actually filmed in Hawaii) and hoping to relocate herself to the U.S. mainland. Before she can leave though, she meets "Hap" Endicott (Howard Keel) who has inherited a run down coconut plantation. Hap being, as they say, just FOB (fresh off the boat) - he is very naive to the ways of the islands. Mimi takes it upon herself to show Hap the ways of the islands. By fits and start - love eventually blossoms between the two. With the help of hired hands Tavae (Charles Mauu) and his young sister Terru (Rita Moreno - I did not recognize her at all - she looks sooo young) - Hap slowly brings back the plantation to life. I think Howard Keel had a wonderful voice and was a good pick to play opposite Williams. His rendition of "The House of The Singing Bamboo" is kind of a catchy tune at that. Again, this film wouldn't be so bad if the musical numbers or swimming scenes were filmed with a bit more imagination. There really isn't much memorable about those scenes at all. A fantasy sequence starts off interestingly with Esther filmed in slo-motion seemingly swimming in the sky...but the rest of the sequence is just plain bland. There is also a nice tahitian dance number here with a couple of fire knife dancers. I just wanted to point out that it's "tahitian" and not "hula". There is a difference that I wanted to point out: Hawaiian hula is very delicate, slow and poetic with it's precise arm and body movements. Tahitian is more SHAKE-IT SHAKE-IT BABY...WOOOO!!! The missionaries tried to ban tahitian dancing because it was just blatantly too sexy. I love watching tahitian dancing...!!! 5.5 / 10
bernard anselmo
Pagan Love Song Quotes
There are no approved quotes yet for this movie.
Discussion Forum
Discuss Pagan Love Song on our Movie forum!