Pagan Love Song
(1950)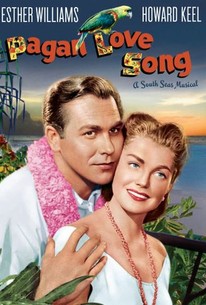 AUDIENCE SCORE
Critic Consensus: No consensus yet.
Movie Info
Set in splendiferous Tahiti, this musical chronicles the love affair between a handsome young plantation manager and a local beauty (Esther Williams) who dazzles him with her aqueous grace and charm.
Critic Reviews for Pagan Love Song
There are no critic reviews yet for Pagan Love Song. Keep checking Rotten Tomatoes for updates!
Audience Reviews for Pagan Love Song
Pagan Love Song is a Technicolored xenophobic fantasy with lead actress Esther Williams looking striking in brown body makeup and two-piece outfits as the half-Tahitian, Mimi. Bass-voiced, douche Howard Keel is "Hap" Endicott, a teacher from the USA who just inherited some land with a bamboo shack on it and wants to kick back and become a native. Even though Mimi has plans to move to the States just as Hap is settling in, we know that they'll get together somehow. So far, you can clearly recognize just by reading the premise; this movie is plain dumb. Keel plays his character like a big, grinning lout who belts out some of the worst songs ever written while blundering his way around the island like a newborn giraffe. He gets along great with the natives, who are all portrayed as a bunch of addle-brained children themselves. Now as an individual with Tahitian descend, I found this portrayal and the overall film at times very offending and disgusting but the shallowness at times was so blunt, it lessened my irritation. Why? These folks obviously have no idea what Tahitian culture or any other Pacific culture is. I don't know what insulted my intelligence more; the fact the dance performed was actually Hawaiian or the Tahitians for some reason speak with a Midwestern accent, the list could probably go on forever. To make matters worse, Keel and Esther have about as much romantic chemistry as a couple of empty coconuts. After the movie has toddled along with nothing much going on until almost the end, an awkward and overly melodramatic plot twist is dropped right in the middle of it like an anvil in order to remind us that there's supposed to be a story. I don't think I have ever witnessed a more cringe-worthy climax leaving me in complete disbelief on how any film can stoop so overdramatically. In the end, "Pagan Love Song" is one of those Hollywood sappy films but times a hundred. Not only is it ignorant and dull but a racist atrocity that literally will drop anyone's IQ to mental unresponsive. Avoid like a plague. Story: F Acting: F Direction: F Visuals: F Overall: F No stars out of 4
Matthew Rodrigues
Super Reviewer
Pagan Love Song Quotes
There are no approved quotes yet for this movie.
Discussion Forum
Discuss Pagan Love Song on our Movie forum!