Wa Pei (Painted Skin)
(2008)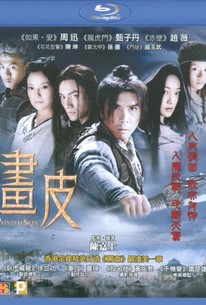 AUDIENCE SCORE
Critic Consensus: No consensus yet.
Movie Info
This action-fantasy opus from Hong Kong director Gordon Chan - a co-production of Hong Kong, China and Singapore with a predominantly Chinese cast - represents at least the third screen incarnation of a famous macabre Asian short story from the Qing Dynasty. (Prior versions emerged in 1966 and 1993). The setting is the Yuan Dynasty of the 13th and 14th centuries. As the tale opens, soldiers rescue a resplendent orphan girl, Xiao Wei (Zhou Xun) from desert bandits. She is taken in by General Wang (Chen Kun) and his wife Peirong (Vicki Zhao), who lavish attention on her, but three months into the unofficial adoption, a bizarre series of events befalls the city: a gruesome serial killer begins striking all over the map, killing his victims by ripping out human hearts. Deeply distrustful of the young girl and suspicious that she may actually be a bloodthirsty demon disguised as a human, Peirong summons the help of General Pan Yong (Donnie Yen), a washed-up, burnt-out alcoholic who has formally retired from military service. Lo and behold, as it turns out, Pan has befriended a Chinese ghostbuster, Xia Bing (Sun Li), who, as it turns out, has been chasing Xiao for years in revenge for her ghastly murder of one of his relatives. ~ Nathan Southern, Rovi
Rating:
NR
Genre:
, , , ,
Directed By:
Written By:
In Theaters:
On DVD:
Runtime:
Studio:
Shanghai Film Group
Cast
Critic Reviews for Wa Pei (Painted Skin)
There are no critic reviews yet for Wa Pei (Painted Skin). Keep checking Rotten Tomatoes for updates!
Audience Reviews for Wa Pei (Painted Skin)
Fine entertaining of a classic Chinese ghost story. In fact, this isn't a Donnie Yen film where he grins, kicks ass and ultimately kick more asses, but rather, at its core, a love story, a light hearted genre mixture of action, ghosts and comedy. Quite simply revoking those days when movies like A Chinese Ghost Story are still in existence. Gordon Chan is better known as an action director and by the looks of this film, should much better remain as one. He at present lacks the ability to tackle a period romance film. The emotions examined sometimes can seem stock rather than refreshing. The editor too must take some blame for failing to put together the movie in an intriguing way. It is a good movie, due largely to the performances of the two leading actresses, Wei Zhao and Xun Zhou.
Dean McKenna
Super Reviewer
½
Before watching the film, my first impression was that it was going to be one of those tacky Chinese fantasy movies from the 80s, 90s, so I was in for a surprise by how much it didn't suck. It wasn't spectacular, but the acting was decent with Zhao Wei and Zhou Xun among others, graphics and makeup was convincing, and the soundtrack was better. It definitely turned out to be more than just a supernatural movie about a fox spirit preying on human hearts.
½
Wow! Director Gordan Chan has a gem on his hands with Painted Skin. This film spreads across a good amount of genres including: martial arts, horror, drama, romance, and thriller. The nice thing about this is that Chan is able to blend all these things together into a smooth picture.
The story is alluring and marvelously told. The film uses simple fade outs effectively to transition to different sets of characters or scenes. This is also consistent throughout the entire picture, along with the well done soundtrack.
The pacing is rather slow, however the 100 minutes isn't bland. The film never seems to drag at any one segment for too long and the camerawork boosts the movie visually.
The martial arts is very few and this is just a tad disappointing since Donnie Yen is in here. As I previously mentioned though, there are a lot of genres to this picture and none of them overpowers the other. This isn't a scary or gory film, but there are a few horror type elements that show up.
Donnie Yen is probably the biggest name in here, however most of the film revolves around Kun Chen. The interesting thing is that Donnie puts on one of his better ACTING performances while the martial arts takes a back seat. The 3 beautiful ladies of this film are Zhou Xun, Betty Sun, and Zhao Wei. All do splendid jobs with their characters.
Painted Skin is a film with everything going for it and is a must see for Hong Kong movie fans.
Discussion Forum
Discuss Wa Pei (Painted Skin) on our Movie forum!
News & Features