Paisan (Paisà)
(1948)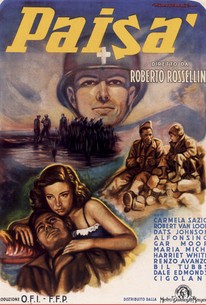 Movie Info
Roberto Rossellini's episodic, neorealist tale of life in Italy during World War II focuses largely on the efforts of Allied soldiers and nurses, improvised by a cast of non-professional actors.
Critic Reviews for Paisan (Paisà)
Audience Reviews for Paisan (Paisà)
½
Amateurish acting, terrible dubbing and filming errors apart, this is a riveting example of cinéma vérité centered on many cultural differences encountered during the liberation of Italy by the Allied forces, yet although the first three stories are sublime, the last three are not so efficient.
Carlos Magalhães
Super Reviewer
½
"Paisan" is Roberto Rossellini's second film in his War Trilogy and is made up of six short stories of reality during the years 1943-1944 and the struggles and suffering of the Italian people under German occupation. All the shorts show of the destruction both physically and mentally for those fighting against the Germans. Most of the stories are dead serious and show the realities of war, but even the second and five stories that have some lighter and even comedy elements still show the destruction and emotional state of the people. This as well as the rest of the trilogy are essential Italian cinema and are legendary in the postwar Italian neorealist movement! Criterion's presentation is superb in view of the source material and the extensive damage that for decades made it unwatchable. Over 500 hours of MTI's digital restoration machine was needed for 265,000 individual manual fixes in order to clean up the film.
Chris Browning
Super Reviewer
Directed by Roberto Rossellini, "Paisan" is a riveting movie about the liberation of Italy during World War II, told in six unrelated episodes with a focus on ordinary citizens. In the initial installment that starts with the United States Armed Forces landing in Sicily in 1943, we can already see the differences between the liberators and oppressors in the different ways Carmela(Carmela Sazio), a young girl who is worried for her father and brother, is treated. What also becomes clear are the differenes between the Americans and Italians, even as their aims are similar, which are sometimes exacerbated by the language barrier(the movie's title comes from one of the only Italian words an American soldier knows). This becomes especially noticeable in the episode with the three chaplains. With the Germans coming and going as the action moves northwards, it is also clear that Italy is a country rich in history that has been devastated by war, as the new ruins take their place next to old ones.
Paisan (Paisà) Quotes
There are no approved quotes yet for this movie.