Pako to mahô no ehon (Paco and the Magical Picture Book)
(2008)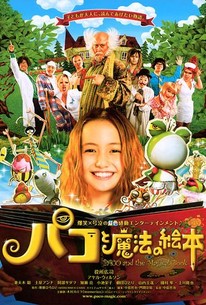 AUDIENCE SCORE
Critic Consensus: No consensus yet.
Critic Reviews for Pako to mahô no ehon (Paco and the Magical Picture Book)
There are no critic reviews yet for Pako to mahô no ehon (Paco and the Magical Picture Book). Keep checking Rotten Tomatoes for updates!
Audience Reviews for Pako to mahô no ehon (Paco and the Magical Picture Book)
½
Nakashima, the director of Kamikaze Girls, once again exhibits his hyperactive visuals and storytelling, for this family film. At first I was very annoyed. This was just too bright, too obnoxious and too wacky. It was like being thrown into the middle of a LazyTown Pantomime, which is pretty much my worst nightmare. Luckily the film decided to become more and more serious. I first took notice when the main character punches a little girl in the face. This isn't done for comical effect, it's as cruel as you'd imagine it to be. That act becomes the one thing that Paco (the young girl) is able to remember as she suffers from short term memory loss. It starts a wonderfully explored relationship and leads to an excellent ending that is very mature and very moving.
Luke Baldock
Super Reviewer
Tetsuya Nakashima continues to impress with Paco and the Magical Picture Book, a family film not just for a younger audience.
The story is a little weak at first, but becomes clearer as the film progresses. Right from the get go the film is just so full of life and it is a blast to watch. There are a bunch of characters to get to know, and each of their backgrounds happen at various opportune times throughout the picture. The conclusion of this 1 hour 45 minute film is a little emotional and there are some dramatic parts, however even in these times, the film never loses it's flamboyant and dazzling style.
Visually, this film is a childish masterpiece. The settings are rich in color and the over the top characters are a perfect fit to the story. The same applies to the the camera work and scene transitions which are simply superb.
The CG and animation effects show up in bunches. While it may look just a tad cheap, it doesn't feel out of place at all. In the second half of the film during the play segment, the constant switching between CG and live action is flawless.
All the acting is good and it is hard to fault anybody, since it is all over the top characters. Ayaka Wilson is adorable as Paco and Koji Yakusho is able to carry this picture as Onuki. Jun Kunimura is hilarious as a transvestite and there is just something sexy about Anna Tsuchiya and Eiko Koike in nurse outfits.
On one final note, Paco and the Magical Picture Book is a film for kids, as well as adults, but there are a few things that may be inappropriate for younger eyes and ears. The "b" word appears more than once, and as I previously mentioned, there is a transvestite character.
Pako to mahô no ehon (Paco and the Magical Picture Book) Quotes
There are no approved quotes yet for this movie.
Discussion Forum
Discuss Pako to mahô no ehon (Paco and the Magical Picture Book) on our Movie forum!