The Paleface
(1948)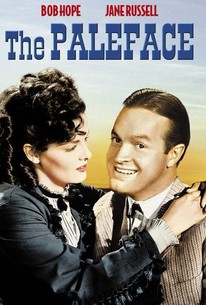 Movie Info
In this western spoof, Painless Potter is a hopelessly inept dentist who heads West to seek his fortune. Meanwhile, Calamity Jane is engaged in undercover work on behalf of the government. To put up an innocent front, Jane marries the befuddled Potter, then convinces everyone that Potter is a rootin'-tootin' gunslinger.
Critic Reviews for The Paleface
Audience Reviews for The Paleface
½
The West Wasn't for Everyone American cultural mythos holds that, in the nineteenth century, the way to new opportunity was always West. It's sort of a progressive West, too--immigrants, naturally all came from Europe (we don't talk about Asians much, and when we do, they're always doing white people's laundry or building railroads), and American is West. And then all those people crowded into the cities with no hope of advancement (except for immigrants, who by nature of leaving Europe are already better off, because freedom) had the opportunity to move West into the great expanses of the Frontier. If you went West, you could move beyond whatever your past had been and really be free. This is probably at least in part responsible for the migrant workers who poured West during the Depression; we know already that the West has opportunity and the East does not, because that's what we've always believed. But not everyone was cut out for the West. Among those who would be better in the East (or continuing until he hit San Francisco, at least) is dentist "Painless" Peter Potter (Bob Hope). He doesn't like roughing it. He likes luxury. However, he's bought into the idea that Westward lies prosperity, so he's traveling from town to town, leaving when he's chased out. He is in the process of being chased out when he catches the eye of Calamity Jane (Jane Russell). She has been released from jail on the proviso that she seek out who is selling dynamite and guns and so forth to the Indians, and she needs a partner so she can pretend to be married, which seems more innocent. The man who was supposed to have been her partner has been killed, so she fools Painless into coming along with her. He's a coward, so she knows it's going to take fooling. She knows that Painless will make himself the center of attention, letting her go on about her business of solving the mystery on her own. Why do they always make the character Calamity Jane? Calamity Jane is a real historical figure. We know who she was and what she looked like, and this isn't it any more than Doris Day was it when she played a character called Calamity Jane. There's no point in the story or the history to having her be Calamity Jane. She's called that just because it's a name we know, but so what? There are hundreds, probably thousands, of Westerns full of characters whose names we don't know, but it doesn't matter. Some of the greatest Westerns of all time are completely fictional with no pretense otherwise, and that's fine. We don't need it to be otherwise. Would Jane Russell's character be less interesting if she hadn't been given that name? Was there something inherent to Calamity Jane that made her a plausible figure to put in this situation? I mean, I've seen pictures of Calamity Jane, and not even the wolfish character Bob Hope always portrayed would have chased her the way he does here when the dance hall girls were around. Of course, the plot of a Bob Hope comedy isn't really the point anyway, though a Bob Hope comedy wherein he encountered the historical Calamity Jane might have been interesting. You know, though, now that I think about it, I'm reminded of Eddie Izzard talking about [i]Scooby-Doo[/i] and how Shaggy and Scooby are essentially Falstaff, because what they believe in is cowardice and sandwiches, and how that's unique in fiction. However, I'd say that Bob Hope's characters are even closer to Falstaff, because Shaggy isn't all that into girls, and Falstaff does a lot of girl-chasing in his appearances. Bob Hope's persona was all about the girl-chasing and cowardice, and he wouldn't say no to the sandwiches. He, like Falstaff, was always looking for an easy chance at making a quick buck. And, of course, there's the drinking, though not as much as in Dean Martin movies (and at least he doesn't reference any of those in this film), which is also an important aspect of Falstaff. Not, in the end, a great movie. Not a bad one, either. It's a light, easy movie, the kind of thing to watch if you aren't all that interested in thinking. The Indians? Well, they're Hollywood enough so that one of them is good ol' Iron Eyes Cody, born Espera Oscar DeCorti of Sicilian heritage. It's also worth noting that no one ever, so far as I remember, specifies what tribe the Indians are. And while Bob Hope sings about loving Jane in buckskin or homespun, he has never actually seen her in it, even as they're crossing the . . . um, woods. Because there's no prairie. Anyway, whatever she's crossing, it's in burgundy velvet, because she's pretending, per the plot, to be a lady. And everyone knows ladies crossed the, let's say, wilderness in formal clothing. As opposed to, well, homespun. Or the buckskin that she wears when she's not pretending to be a lady, which is more practical if less ladylike. At any rate, it's a movie worth watching, and I'm not sure there's such thing as a great Bob Hope movie anyway.
Edith Nelson
½
I think this film was a befitting lighthearted story. The chemistry between Jane Russell and Bob Hope was amazing. Hope was in his element with the script and Russell was perfect for her role as Calamity Jane. The jokes are classic and gives us a chuckle. Some say the sequel is better but I wonder how they could top this one. www.what-to-watch.com
Laura Rachel
½
The fact that it was written by cartoon guru Frank Tashlin explains a whole lot. Stupid as hell, but Bob Hope's vaguely racist antics at the end about make the whole thing worthwhile.
Andy Cramer
The Paleface Quotes
There are no approved quotes yet for this movie.
Discussion Forum
Discuss The Paleface on our Movie forum!