Pandemic
(2008)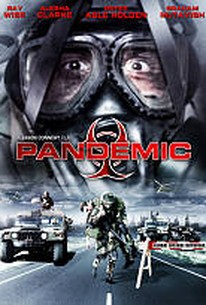 AUDIENCE SCORE
Critic Consensus: No consensus yet.
Movie Info
Humans and animals alike become victims of the same illness in this action film directed by Jason Connery. The fate of the world lies in the hands of a veterinarian and a paranoiac who must work around a military quarantine.
Critic Reviews for Pandemic
All Critics (1) | Fresh (1) | Rotten (0)
Moving this exciting thriller along at just the right pace, director Jason Connery builds considerable suspense concerning how it will end.

Audience Reviews for Pandemic
½
My thoughts of this movie were completely different from what it really was. It's a very slow, non-bloody/gory, and low budget drama/thriller about a virus outbreak. I think the only good part is the last 10 minutes. The acting was pretty bad except for a couple actors/actresses. If you're looking for a virus and/or zombie movie, I highly suggest 28 Days Later, Resident Evil, Zombieland, and [REC].
Thomas Hiers
You will immediately be disappointed by this film. It's 15min of footage stretched into an hour thirty and I still don't know why. They should have left it at 15min. Look at the cover. Looks like there would be major action going down. Nope. This is a town of 6 people and 3 horses and that's all. Everything is dark. The sound is all messed up. 2 actors talking and one is screaming and one is whispering. Scenes of driving/running last an entire music score to get no where. There is a lot of talking about getting sick but no one does cause there is no one. Here's the run down of the whole movie. Guy and his horse get sick. Army moves in to quarantine. Nothing happens...crazy guy draws a map to nowhere and tells woman to use it when necessary about 30min in which is just a trick to make you keep watching to figure out what that was he wrote down. Turns out to be nothing. Some chicken scratches that send the woman running through the woods only to die from the virus that I swear the director forgot the movie was about seeing no one was wearing more than a 50cent shit breather around the one dead body to keep from getting sick. Movie ends with the woman dying and a ending where the film tries to insinuate that it was the army testing a virus on Americans to use in Afghanistan. Hell, if we only need to donate 3 humans and 4 horses for the cause then what's the big deal? I say go for it. No scenes of mass death. No scenes of more than the same 3 army guys. No nudity. No anything really which makes me wonder how this got an R rating when it could have easily gotten a PG for lack or any content. Not a case of it's so bad it's good like an Ed Wood movie as there isn't any content here to even get that accolade. By far the biggest waste of time. Stare at the wall before watching this. It will be more entertaining.
joe lachiana
This movie wasn't hardly watchable. It moved so slow that I had to fast forward it and I still didn't miss anything. The movie doesn't reflect the description provided. BORING and lackluster-save the dollar and don't rent it.
Roger Sommers
Pandemic Quotes
There are no approved quotes yet for this movie.
Discussion Forum
Discuss Pandemic on our Movie forum!