Papillon
(1973)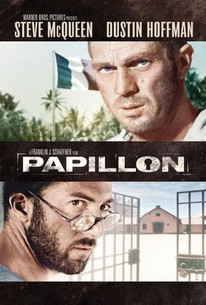 Movie Info
The autobiography of Henri Charriere, one of the few people to successfully escape from the notorious French penal colony of Devil's Island, served as the basis for Papillon. Steve McQueen plays the pugnacious Charriere (known as "Papillon," or "butterfly," because of a prominent tatoo), incarcerated--wrongly, he claims--for murdering a pimp. He saves the life of fellow convict Louis Dega (Dustin Hoffman), a counterfeiter who will later show his gratitude by helping Charriere in his many escape attempts, and by smuggling food to Charriere when the latter is put in solitary confinement. One breakout, which takes Charriere and Dega to a leper colony and then to a native encampment, is almost successful, but Charriere is betrayed (allegedly because he stopped for an act of kindness) and back the prisoners go to French Guiana. Years later, Dega is made a trustee and is content with his lot, but the ageing, white-haired Charriere cannot be held back. A tribute to the unquenchability of the human spirit, Papillon brought in an impressive $22 million at the box office. ~ Hal Erickson, Rovi
News & Interviews for Papillon
Critic Reviews for Papillon
Audience Reviews for Papillon
With an excellent performance by Steve McQueen and a stunning cinematography that employs a large depth of field to explore the setting and thus the gravity of the situation, this compelling prison film works so very well despite losing some of its credibility in the third act.
Carlos Magalhães
Super Reviewer
½
Based on a true story, but taking a number of liberties, this is Franklin J. Schaffner's sprawling portrait of Henri Charriere- a wrongly imprisoned criminal who made his mark on the world for being one of the few people to ever escape from the infamous French penal colony of Devil's Island. The film follows Charriere, often referred to as Papillon (French for "butterfly"- based on a prominent tattoo of his), as he deals with incarceration. He is an admitted safe cracker, but his life sentence on Devil's Island is for the murdering of a pimp, something he claims he didn't actually do, and was set up. Life in the prison is downright grueling, but he struggles through it quite admirably. In his struggle to survive, escape (and escape for good), he is joined by Louis Dega, a counterfeiter whose connections could greatly help Papillon in his quest. Here's the thing about this movie. It's long. 150 minutes. I've seen a number of films of this length, and a number of them that ran even longer. But, this proved to be one of the more difficult films of this length to get through. It's quite slow, is extremely drawn out, and makes you feel like you've done extensive time in the prison as well. It's a good movie, don't get me wrong. But it really doesn't need to be this long, are at least not this slow and stretched out. For that reason, I'm cutting the rating down afair amount. The rest of the film is just fine, though the ending kinda peters out. But the writing is decent, the cinematography is terrific, the score from Jerry Goldsmith is quite good, and we get two excellent performances from Steve McQueen as Papillon and Dustin Hoffman as Dega. I also loved how the film pulls no punches when it comes to showing the horrors of prison life. I know that PG rated films from the 70s were edgier than they are now, but this is easily one of the hardest PG films ever. I doubt it'd get that rating today. Maybe a strong PG-13. The film has clear messages, and delivers them decently, if just in a plodding way. All in all, I did enjoy this film, but make sure you're in the right frame of mind, and are up for a really lumbering film.
Chris Weber
Super Reviewer
What greater escape from boredom, than watching two of the finest actors in Hollywood history, making their own grand escape from the shackles of imprisonment. There's just something about these kind of epic prison dramas that always manages to capture every ounce of my attention. Speaking of great escapes, this is also the first film I've ever seen starring Steve McQueen. Now I could finally see for myself what I've been hearing and reading about for years - and he is indeed an extraordinary actor. As for the technical achievements of the film, there's more praise to be given here than I have the time to administer. But to highlight some of the essentials, it really made an impression on me with its marvellously written script. Every piece of dialogue has been given a lot of thought and consideration, and right from its very first scene it really absorbed me into the story. Visually, there's much to revel in as well. Although the situations the characters find themselves in are often harsh and extremely gruesome, many of the locations they travel to are incredibly mesmerizing to the eyes. Aficionados of the prison genre - and great dramatic work in general - owe it to themselves to see this lush and heart-gripping classic. A fantastic, triumphant and beautifully crafted motion picture, supremely directed by Franklin J. Schaffner. Not to forget Fred J. Koenekamp, whose outstanding cinematography is one of the film's most pleasant components. Truly a must-see! http://www.facebook.com/pages/Mikes-Movie-Reviews/281824101875153?ref=hl
Papillon Quotes
| | |
| --- | --- |
| Papillon: | Papillon: Hey, you bastards, I'm still here! |
| Papillon: | Hey, you bastards, I'm still here! |
| | |
| --- | --- |
| Guard: | The rule here is total silence. We make no pretence of rehabilitation here. We're not priests, we're processors. A meat packer processes live animals into edible meat. We process dangerous men into harmless ones. This we accomplish by breaking you. Breaking you physically, spiritually and here [taps head]. Strange things happen to the head here. Put all hope out of your mind, and masturbate as little as possible. It drains the strength. |
| | |
| --- | --- |
| Dega: | Blame is for God and small children. |
| | |
| --- | --- |
| Dega: | A temptation resisted is a true measure of character. |
Discussion Forum
Discuss Papillon on our Movie forum!