Para Elisa
(2013)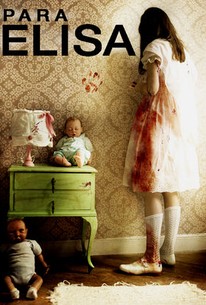 AUDIENCE SCORE
Critic Consensus: No consensus yet.
Critic Reviews for Para Elisa
All Critics (2) | Fresh (2) | Rotten (0)
if Fernández gets the atmosphere creepily right, the story itself feels padded.... The lack of narrative economy suggests that For Elisa might have worked better as a short film.
A ride worth taking, even if the ending feels like a deliberate middle-finger to the audience.
Audience Reviews for Para Elisa
Another film without a synopsis. Ugh. Anyway, the film sees Ana, needing some money in order to fund a trip after she graduates, finds a babysitting job that goes straight to hell. The person she's babysitting, already a grown woman, who's been raised into believing she's actually a young girl, believes her to be one of her dolls Trapped in the house with this deranged woman, Ana must find a way to survive. There you have it. The movie, at barely 69 minutes of length, is incredibly straightforward. I don't wanna say that the film is simple, cause Diamantina's way of raising Elisa does bring up some interesting questions, but there's no real in-depth exploration of the film's themes. Which, again, is understandable given that the film doesn't even cross 70 minutes in running time. But I still do think the movie makes about as good a use of its limited time as they could've. I thought the horror, while not really that extreme, was effective. The thing about this movie is that, while there's some exaggerations here, the situation presented here isn't so out of this world. Maybe not exactly what happened here, but many people have put out ads for jobs or because they're selling a particular item, only for them to be luring people to a place where they can be murdered. It has happened before, so I think that lends the film some believability as it relates to its subject matter. The film, while certainly presenting some gruesome scenarios, isn't as violent a film as one would imagine. Maybe that's just me getting so used to the gorefests that this didn't make much of an impression. Who knows? They pretty much do leave everything to the imagination. The scene where Ursula is murdered is off-screen and you can only hear thuds. The scene where Elisa cuts off her mother's arm is, again, off-screen. Same thing with the scene where Elisa hammers Ana's legs so she can't escape. Pretty much everything is left to the imagination and, you know what, I think it works in this movie. Which brings me to the ending, the blurb mentions here that it feels like a deliberate middle finger to the audience that invested in Ana's journey of survival. I guess that's a valid point, but not every movie needs to have a happy ending. I thought the ending was actually really well-done and, honestly, a little funny. Not like it was meant to be purposely funny, but the fact of how it came about. It made me laugh. The Spaniards don't give a fuck about happy endings. The acting is solid as well. This is about as straightforward as horror gets and it's an enjoyable movie at that. Not perfect, but it's worth watching if you're a horror geek.
Jesse Ortega
Super Reviewer
Para Elisa Quotes
There are no approved quotes yet for this movie.