Parada (The Parade)
(2011)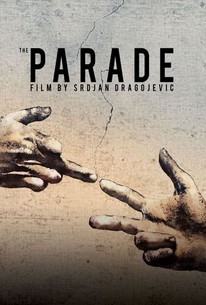 AUDIENCE SCORE
Critic Consensus: No consensus yet.
Parada (The Parade) Photos
Movie Info
A homophobic, middle-aged, Serbian gangster ends up sacrificing himself to protect gay freedom in his country.
Critic Reviews for Parada (The Parade)
All Critics (2) | Fresh (2) | Rotten (0)
As slick and corny and sitcom-esque as 'La Cage Aux Folles'; but if its message seems obvious and unchallenging for the typical U.S. viewer, it's not so easily digested in post-Soviet Eastern Europe, as recent events in Russia have demonstrated.
The bigotry is raw and the language isn't tame, but the way Dragojevic doesn't shy away from the hate while still managing to get laughs makes for daring entertainment.
Audience Reviews for Parada (The Parade)
The Parade (Serbian: Парада / Parada) is a movie with a subject which I thought was impossible for the Balkan... Writing and directing a movie about a controversial subject like gay rights in Serbia, Srđan Dragojević made a wonderful work of art to be remembered! No wonder this movie had 350,000 admission tickets sold in Serbian cinemas in first 11 weeks of distribution, 150,000 in Croatia after 8 weeks, 25,000 in Slovenia, 40,000 in Bosnia-Herzegovina, 20,000 in Montenegro and 11,000 in Macedonia - and that is in the countries where people just do not go to cinemas because they can always watch pirated copies of the movies before they hit the big screen. [img]http://upload.wikimedia.org/wikipedia/en/d/d4/Parada_321186_128767327231251_100002939539628_151372_360833403_n.jpg[/img] The movie introduces a group of gay activists, trying to organize a pride parade in Belgrade in 2010. I was, by chance, in Belgrade on that day with my Latin dance troupe, and I know how annoyed I was with the closed streets of the city centre and the violence which interrupted amongst 6000 "straight" fighters and 5000 policemen who protected the small group... But, the movie wasn't concerned about the closed streets... the story of Mirko Dedijer (Goran Jevtić), a struggling theatre director, his boyfriend Radmilo (Milo Samolov), a veterinarian is interwoven with the story of Miko Draković a.k.a. Limun, a macho Serbian veteran of the Yugoslav Wars in his mid-to-late forties. No stranger to various criminal activity, divorced Limun now operates a judo club that doubles as a bodyguard agency (whose clientele mostly consists of controversial nouveau riche businessmen and female turbo-folk singers) while dating Biserka (Hristina Popović), a much younger, low-brow ditsy trophy girl who runs a beauty parlour. His son from a previous marriage Vuk (Relja Popović) works in an auto repair shop and is a member of a fringe right wing skinhead group that often engages in violence against gays... Enough introductions... you'll have to watch and see for yourself in what situations these guys can put themselves! When the paths of these characters (and the acting was so natural) cross - you will laugh, cry, think deep and trying to understand the surreal way of thinking of the people from this part of the world! I had to say that I laughed more than ever watching stereotyped characters of Limun's former enemies from the Yugoslav Wars who were hired to help him to protect the "human rights": Roko (45) a Croat war veteran who now runs a kafana, Halil (40) a Bosniak who owns a video rental parlour, and Azem (45), an Albanian from Kosovo who makes a living by selling drugs, mostly to the US troops stationed there. Dragojević conceived the movie in summer 2001 while he watched the footage of the violence at the attempted gay pride parade in Belgrade. He wrote the first screenplay draft for Parada in 2004 before coming back to it in 2007 after failing to secure financing for his other film project titled 1999. By autumn 2009, Dragojević was ready to start shooting with the original plan being to shoot the parade scenes at the actual 20 September 2009 gay pride parade in Belgrade that ended up getting called-off due to security concerns. At the end he finished shooting next year, and Parada cost 1.3 million to make and its funding came from European Council's Eurimages fund, Croatian Audio-Visual Center (HAVC), Serbian Ministry of Culture, Slovenian Ministry of Culture, Macedonian Ministry of Culture, and embassies of Germany, Holland, and France in Belgrade as well as Serbian companies Dunav Osiguranje, Prva Srpska Televizija, and Serbia Broadband. Dragojević complained in interviews that over hundred companies in Serbia turned him down for funding due to not wanting to be associated with a gay-themed project. The film has been accepted for the 2012 Berlinale's Panorama programme as the only film from former Yugoslavia out of twenty that applied for the festival. It is well calculated and cunning work whose main goal is to regain audiences of former Yugoslavia and win Western markets - and does that pretty well! Comedy which is bitterly unbridled with uncontrolled and slightly anarchic humour and filthy street lingo... a real delight... not Turkish delight this time - just a simple tasting Serbian delight!
Parada (The Parade) Quotes
There are no approved quotes yet for this movie.