Paradise: Hope
(2013)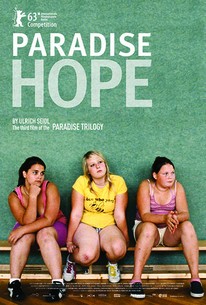 TOMATOMETER
AUDIENCE SCORE
Critic Consensus: After testing viewers' endurance with a pair of discomfitingly bleak films, Seidl concludes his Paradise trilogy on a surprisingly sensitive note.
Movie Info
The concluding chapter of the trilogy tells the story of overweight 13-year-old Melanie and her first love. While her mother travels to Kenya (PARADISE: LOVE) and her aunt does missionary work (PARADISE: FAITH), Melanie spends her summer vacation at a strict diet camp for overweight teenagers. Between physical education and nutrition counseling, pillow fights and her first cigarette, Melanie falls in love with the camp director, a doctor forty years her senior. (C) Anthology Film Archives
News & Interviews for Paradise: Hope
Critic Reviews for Paradise: Hope
Audience Reviews for Paradise: Hope
½
13-year-old Melanie (Lenz) is sent to a summer camp for overweight teens in the Austrian countryside. There she makes friends with three girls whom she shares a dorm with, indulging in nocturnal parties, much to the chagrin of the authorities who run the facility. When the institute's fifty-something doctor, Artz (Lorenz), shows Melanie a creepy degree of affection, the young girl falls in love with him. Realizing Melanie's infatuation could cause him some serious problems, Artz attempts to keep her at a distance but finds it difficult to deny his attraction to her. Unfortunately I missed 'Paradise: Love', Seidl's tale of a group of middle-aged and middle-class Austrian women who travel to Kenya for a sex vacation. That film opened his 'Paradise' trilogy and was followed up by 'Paradise: Faith', a film I found both fascinating and frustrating in equal measures and which followed the exploits of a religious fanatic. Now the trilogy is completed with 'Paradise: Hope', a film that's a lot more frustrating than fascinating. The connection to the previous two installments is that Melanie is the daughter of 'Love's protagonists and the niece of the lead character of 'Faith'. A "fat camp" may seem like a strange setting for a film, especially given its divergence from the themes of the previous two entries in this series. I'm not sure if Seidl has a personal gripe with such institutions but the one featured here is enough to terrify any parent. A facility concerned with improving the physical well-being of teens would seem a truly bizarre target for a film-maker's ire and Seidl's methods of attack are hackneyed, blunt and often laughably over the top. Artz is so outwardly creepy that there's simply no way such an institution would allow him to work around kids. The copious alcohol consumption indulged in by the kids is baffling. How exactly do you get your hands on booze in a fat camp? Likewise a scene where the facility's kitchen is raided for junk food. Why would the kitchen of a fat camp be loaded with such food? As with 'Faith', 'Hope' is beautifully shot, every frame composed with teutonic precision, and the acting is outstanding and genuine, but Seidl spends too much time trying to bluntly hammer home a point that I'm not sure I understood and certainly didn't agree with.
The Movie Waffler
Super Reviewer
Paradise: Hope Quotes
There are no approved quotes yet for this movie.