Paraguayan Hammock
(2006)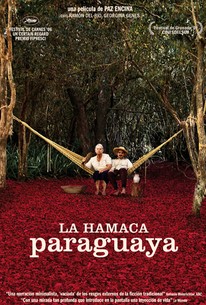 Movie Info
Director Paz Encina's intimate and unconventionally structured film tells the tale of an aging couple who patiently await the return of their son, who was fighting against Bolivia in the Chaco War, while sitting on a hammock in the Paraguayan countryside. Presented in a nonlinear structure and frequently employing voice-over, the film gently lingers on the couple as both recall the last conversation they had with their son, tend to their daily chores, and affectionately engage in dialogue that slowly reveals the gaping void that materialized in the wake of their beloved son's departure.
Cast
Critic Reviews for Paraguayan Hammock
All Critics (9) | Top Critics (6) | Fresh (5) | Rotten (4) | DVD (1)
That Paraguayan Hammock happens to be one of the few features to emerge from Paraguay in recent decades in no way diminishes its rarity.

New York Times
Top Critic
Paraguayan Hammock is like a piece of music that improves with familiarity.

Squarely in the vein of Mozart's Requiem.
Globe and Mail
Top Critic
Dragging along in a tedious rhythm of long-take, big-talk, Hamaca Paraguaya is a cinematic bust.
Hollywood Reporter
Top Critic
The thrust of this film is faint but steady. At times, you are really looking for something in the long-holding shot, and it's just not there. The point? Not to look too hard.

Audience Reviews for Paraguayan Hammock
A fascinating (and simple) way to tell a sad, touching story, using long static shots of the couple's daily life as a visual anchor for extradiegetic dialogue and atmospheric background sounds (the forest and the rain) - all done through an outstanding, immersive sound work.
Carlos Magalhães
Super Reviewer
Paraguayan Hammock Quotes
There are no approved quotes yet for this movie.
Discussion Forum
Discuss Paraguayan Hammock on our Movie forum!