Parasite Dolls
(2003)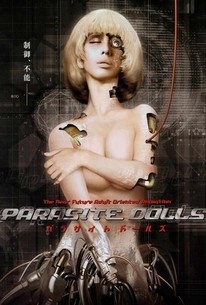 AUDIENCE SCORE
Critic Consensus: No consensus yet.
Movie Info
In a near future world where the dividing line between the people and the plastic is becoming increasingly blurred, it's the job of the Branch to keep the streets of Genom City safe from the dangers of a technology that no one yet knows the limits of. If it even has any. Between the evolving sentience of an entirely new manufactured species, the chaos that inevitably ensues when backyard cyber-hackers attempt to do their own field mods and the willingness of powerful hi-tech corporations to cut a few corners, the men and women of the Branch have already got their work cut out for them. And that's before they factor in the danger of internal corruption, given that one of their own members boasts a metal endoskeleton. Join the ultimate robo-cops as they patrol the dark side of the day after tomorrow in PARASITE DOLLS!
News & Interviews for Parasite Dolls
Critic Reviews for Parasite Dolls
There are no critic reviews yet for Parasite Dolls. Keep checking Rotten Tomatoes for updates!
Audience Reviews for Parasite Dolls
This channels Blade Runner to great effect. The animation was quite good and the stories were a bit dark and interesting. Overall the series was too short, and it only had time to scratch the surface of some of the themes touched here.
Patrick Jones
½
'Parasite Dolls' is another case of the same story told in a different way. Perfect bodies, perfect personalities, perfectly programmable, blah blah, blah. Do we remember Chobits? Or, if you want something a little more contemporary, "Dollhouse"? Do I care? Hell no. Artificial intelligence has been commonly accepted as an eventuality by even the most bass ackwards, ill-educated folks y'all'll fahnd this side 'uh thu Ohiyuh. It's a hot topic for entertainment, so I have no objections to the theme as long as it stays fresh. And Parasite Dolls, at it's heart, is still nice and crisp.
Marti Johnson
½
RATING (0 to ****): * It's amazing what we throw away for love. That's the lesson we learn from Takeshi Kitano's art film "Dolls", or at least that's the lesson we were supposed to learn. During this long, tedious 109-minute interconnecting narrative, I learned that it's amazing what definitions of "love" we'll throw everything away for, and it's not very pleasant being stuck with people who do, indeed, cast their pearls before swine. Let's look at the list: In a reverse-Cinderella story, a man runs away from his bride (on his wedding day) because of a notice that an ex-girlfriend attempted suicide and isn't exactly in the most stable state. So he reclaims her from the hospital and they both wander around as bums. This is the story the bulk of the film is centered around. Then there's the one about the yakuza boss who has one regret: yes, you guessed it, he let his love go. That love of his is from decades ago, a woman who used to sit at a certain bench and eat lunch with him every week. Before he leaves, she swears to return to that bench every week before he returns. In this part, I thought of a good friend of mine who enrolled in the same Gender Studies class three times, pointing out the misogyny in such movies as "The Hills Have Eyes" and "The Devil Wears Prada". She would have had a field day with this one. And finally, my "favorite", a loser of a construction worker who has an undying obsession with a certain pop idol. Her posters are plastered all over his wall, and when it's revealed that she went in a car accident, he does something else to himself before setting off on his journey. Is it social commentary? Yes. It's obvious commentary: being this obsessed with pop idols (or anyone) is bad. This is not any bit enlightening and just leaves a bad taste in your mouth. Now, being that this is an "art film", it's not clear how much of this is meant to be taken literally. Well, it also means that we have a 10-minute puppet show as an introduction (hence the title). It's long and tedious, which is what the film's 40-minute ending also is. Kitano makes mighty sure that we get that the main story (about the runaway groom) is about the dolls we saw in the beginning, and intercuts between the two so many times that you're prepared to scream "All right! I get the damn point!" Perhaps I didn't get all the symbolism. Honestly, I don't care. Takeshi Kitano has another great film laced with it, titled "Fireworks". It also contains something "Dolls" lacks, which is characters we can care about and content that we're actually interested in following. This one just made me want to take a shower. MPAA: Not Rated (but would be PG-13 for disturbing content) Runtime: 1 hour, 54 minutes (109 minutes of "real movie")
Eric Jones
Parasite Dolls Quotes
There are no approved quotes yet for this movie.
Discussion Forum
Discuss Parasite Dolls on our Movie forum!