Parole, Inc.
(1948)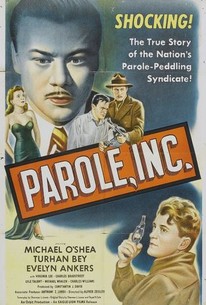 AUDIENCE SCORE
Critic Consensus: No consensus yet.
Movie Info
Government agent Richard Hendricks (Michael O'Shea) goes undercover to get goods on a gang responsible for dispensing illegal paroles. Posing as a prisoner, Hendricks links up with the gang's inside man, Barney Rodescu (Turhan Bey). As often happens in real life, several pillars of society are getting rich by manipulating the lives of others. The plot is not always logical, but audience involvement is sustained every step of the way. Parole Inc was one of the "in-between" pictures -- not quite a "B", not expensive enough for "A" -- produced by young-and-hungry Eagle Lion studios in the late 1940s.
Rating:
NR
Genre:
, ,
Directed By:
Written By:
In Theaters:
On DVD:
Runtime:
Studio:
Eagle-Lion
Critic Reviews for Parole, Inc.
All Critics (1) | Fresh (0) | Rotten (1)
The only good thing is that it moves along at a fast clip and is over in a flash.

Ozus' World Movie Reviews
Audience Reviews for Parole, Inc.
From The Mill Creek 100 Movie Mystery Classics. Though low-budget and rather predictable, "Parole, Inc." is a fairly good crime story. It moves reasonably quickly, and keeps the viewer's attention most of the time. Hendricks (Michael O'Shea) is a federal agent investigating widespread abuses of the parole system. Several dangerous criminals have received unjustified paroles, and evidence points to an organized system of bribery. Agent Hendricks has to go undercover and win the confidence of the gang involved. O'Shea does a creditable job in the lead. Turhan Bey plays a suave lawyer who figures in the agent's investigation. The story that follows is generally predictable, without any real twists or surprises. But it is done well enough to be fairly interesting, is moderately fast-paced, and is usually believable. The characters are mostly stereotypes, but are not overdone. Overall, this is a watchable movie that should hold some interest for fans of crime films. 4 Stars 6-22-13
Bruce Bruce
Super Reviewer
½
Why this is termed a film noir escapes me. Its a black and white crime drama, plain and simple. Most scenes are in daylight. No shadows, no wet streets, no whispered lines. It is badly acted, badly shot, but still.... it is rather captivating. No doubt though, this IS a B film. See the entire film at: http://www.youtube.com/watch?v=8-dGX6pXOEQ Comes off documentary style with our lead actor narrating much of the film. He's undercover on loan from the FBI to discover the underworld's grip on parole boards in general and one state in particular. Of course, money speaks and parole boards walk... to the tune of releasing rather nasty criminals back on the street from prison. The film opens with a scene of FBI agent Richard Hendricks (Michael O'Shea) bedridden in a hospital bed, dictating the results of his investigation for a report to the California Governor. The dictation scenes are interrupted by long flashbacks scenes showing how the investigation proceeded. (((( O'Shea does a good job, but he comes off like some sort of momma's boy, not a veteran FBI operative. )))) Actor Turhan Bey, the lawyer who masterminds all the wrong doing, comes off as some sort of suave English/India speaking character popular with American audiences at the time. NOTE: (((((( David Niven epitimised the suave, British type that held some sort of grip on US moviegoers. Roger Moore did the same as did the Irish Sean Connery as James Bond. Before both of them James Mason had that accent which seemed to mesmerize US audiences. ))))) Other reviewers of the film wrote: 1 70% Solid "B" film noir, great pace, snappy dialogue. Good performances. Very entertaining. The screenplay is interesting and effective. 2 "There's nothing like a movie made in the 40s. There is a simplicity of perspective that is utterly refreshing when compared to the rubbish that passes for entertainment these days. The entire cast is excellent, the plot clean and easy to understand. Well before the half point of the film, I was rooting for the undercover agent to succeed. I like the fact that the crooks were't so smarmy as to be stereotypes. They were rotters but somehow still seemed human. The end of the film has a strong build up. I really enjoyed this forgotten movie. I wonder how many other B movies are so good. Working my way down IMDb list of available films online, I may soon know."-------by William James Harper (Los Angeles) Directed by Alfred Zeisler Produced by Constantin J. David (producer) Anthony Z. Landi (associate producer) Written by Sherman L. Lowe (story) and Royal K. Cole (story) Sherman L. Lowe (screenplay) Cast Michael O'Shea as Richard Hendricks Turhan Bey as Barney Rodescu Evelyn Ankers as Jojo Dumont Virginia Lee as Glenda Palmer Charles Bradstreet as Harry Palmer Lyle Talbot as Police Commissioner Hughes Michael Whalen as Kid Redmond Charles Williams[disambiguation needed] as Titus Jones James Cardwell as Duke Vigili Paul Bryar as Charley Newton Noel Cravat as Blackie Olson Charles Jordan as Monty Cooper Music by Alexander Laszlo Cinematography Gilbert Warrenton Editing by John Faure Distributed by Eagle-Lion films Release date(s) 24 November 1948 Running time 71 minutes /
monsieur rick
½
Solid "B" film noir, great pace, snappy dialogue. Good performances. Very entertaining. The screenplay is interesting and effective.
James Higgins
Parole, Inc. Quotes
There are no approved quotes yet for this movie.
Discussion Forum
Discuss Parole, Inc. on our Movie forum!