Particles of Truth
(2003)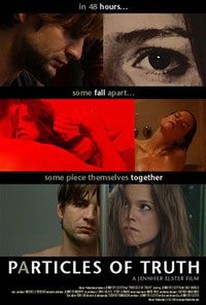 Particles of Truth Videos
Particles of Truth Photos
Movie Info
Lilli (Jennifer Elster, who also wrote and directed the film) is unhappy. She's a struggling artist, living in New York City and cynical about everything, including her own talent. Her father (Alan Samulski) is dying, and Lilli barely acknowledges his existence, while her mother (Susan Floyd), clearly divorced from reality, pretends that her husband left town years ago. The trauma of being raised by two junkies and of her parents' eventual breakup still affects all of Lilli's relationships and her view of herself. She's got a group show opening at a major gallery, but she doesn't even know if she wants to attend. One day she meets Morrison (Gale Harold of Showtime's Queer as Folk), an obsessive-compulsive poet who lives in relative luxury but is too afraid of germs to get out of his car when he first tries to talk to Lilli. While he's better off financially, Morrison has his own family problems, as his father (Larry Pine) and mother (Leslie Lyles) are keeping crucial secrets from each other. While they're attracted to each other almost instantly, Lilli and Morrison have a tremendous struggle ahead of them to forge any kind of moderately healthy relationship. Particles of Truth had its world premiere at the 2003 Tribeca Film Festival.
Critic Reviews for Particles of Truth
Audience Reviews for Particles of Truth
good movie, its not action packed or anything like that, but watching it goes pretty fast and the ending/meaning in the movie is good.
Christie Brandt
Particles of Truth is very nearly a masterpeice of art in itself. This story of life, art and dysfunction winds together into a brilliantly thought out magnification of everyones fears, pain and insecurities. The film closes in on exactly each visual image needed to bring the point home. I am shocked that anyone who calls themselves an appreciator of art and film would rate this film as pretentious or unfulfilling in its message. I truly believe that those who didnt absolutely love this film have no eyes from which to see this particular peice of art. Jennifer Elster brilliantly brought the art of the human psyche onto the screen and expressed it perfectly.
alexia vullis
I had hoped more for this movie. It was underwhelming and pretentious. Its only redeeming quality is Gale Harold, who is an absolute God.
Christine S
Particles of Truth Quotes
There are no approved quotes yet for this movie.
Discussion Forum
Discuss Particles of Truth on our Movie forum!