A Tree of Palme (Parumu no Ki)
(2002)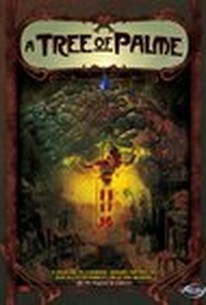 A Tree of Palme (Parumu no Ki) Photos
Movie Info
A futuristic take on the age-old tale of Pinnocchio, A Tree of Palme tells the tale of a wooden robot who longs to become human. Created by ageing Dr. Foe in order to care for his ailing wife, Xian, Palme slowly begins to learn about the human soul and the power of love. Despite the well-intending robot's best efforts, Xian eventually dies of a heart attack and Palme becomes sullen and withdrawn. A passing female warrior later gives Foe a magical bowl from the land of God on the agreement that he will transport it to the underground city of Tamas, and though the old man promises to fulfill her wishes, he is subsequently slain by one of Koram's adversaries. Requesting that Palme fulfill the mission as death approaches, the nurturing robot must now leave the comfort of his home and embark on a journey that will teach him the true meaning of humanity and the human spirit. ~ Jason Buchanan, Rovi
Rating:
NR
Genre:
, , ,
Directed By:
In Theaters:
On DVD:
Runtime:
Critic Reviews for A Tree of Palme (Parumu no Ki)
Audience Reviews for A Tree of Palme (Parumu no Ki)
½
I'm not one to watch much Japanese animation anymore, but this one stands out amongst the flood of cookie cutter stuff that typifies what is popular these days. A Tree of Palme stirred in the brains of its creator Takashi Nakamura for 7 years before he got the chance to make it, and the world he imagined is a dazzling multi-layered microcosm. If you're a fan of fantasy films, and animation in general, you'll find plenty to enjoy in this riff on Pinocchio. The films makes no effort to disguise its connection to Pinocchio; the protagonist Palme is a wooden robot that goes on a journey of self discovery, slowly becoming more human during his travels with a ragtag group of orphans. At the beginning of the film he appears to be malfunctioning, but we learn his catatonic state is the result of losing his "mother", the woman he was built to care for. When a hunted stranger from another land disrupts his unremarkable existence with a powerful secret, he has no choice but to set out into the unknown world. Words alone won't do this film justice, at least when it comes to the spectacular art direction; the film is worth seeing just for the background artwork alone. The original character designs, none of which resemble the now tiresome anime traditions, are a definite breath of fresh air. And the music, which favors the eerie whistle of the ondes Martenot (similar in sound to a theremin), adds a whole other dimension to the already bizarre atmosphere. The main issue with this film is its plot and pacing which are confusing and slow in parts, respectively. It seems to me that after such a long gestation, the characters and world of A Tree of Palme would have been better served in a television series. Due to the inherent time limitations some of the story moves a little too quickly and without the necessary exposition for it to all make sense. And despite being advertised as a family film, the story has quite a dark undertone throughout, and ultimately leaves the viewer with a sense of fragility and loneliness. All of these qualities make it quite an unusual and thought-provoking film that rewards the patient viewer. This review is a repost from my site: http://www.plasticpals.com
Robotbling -
Super Reviewer
½
[font=Trebuchet MS][size=3][b][font=Franklin Gothic Medium]Beautiful anime that's visually stunning with some intriguing charactors and story. It's a futuristic version of the classic Pinoccio story, the main charactor here is Palme, a robot boy who's in search of self knowledge and a yearning desire to become human. Although I think the story goes on a little too long (2 hrs 16 mins ), it is one of the more underrated anime films that deserves a look.[/font][/b] [/size][/font] [img]http://images.rottentomatoes.com/images/movie/coverv/23/239223.jpg[/img]Director Takashi Nakamura lends his artistic eye to this variation on the classic Pinocchio story. While A TREE OF PALME does not always follow a clear, chronological plotline, its subject commands the viewer's attention nonetheless. Stunning visuals bring the film's fantasy realm alive, creating a world in which the surreal is a reality. In addition to being made of wood, this story's protagonist, Palme, is a robot developed with the latest technologies. A TREE OF PALME follows Palme through a series of wild adventures based loosely around the Pinocchio story. Nakamura develops more complicated themes and characters, however, by asking the question "What does it mean to be human?"
Bobbie Murphy
½
English: [i][b]Broken Flowers[/b][/i]...I wanted to like this....I really did. But Writer/Director Jim Jarmusch slightly overestimates how interesting a minimalist Bill Murray performance (ie a constant blank stare) and an anticlimatic story can be. Murray plays a wealthy bachelor who gets unexpected news in the form of an unsigned letter. Apparently he has sired a son but the woman who wrote the letter, a former lover, never told him. That son, the letter tells the hardly moved Murray, is searching for Murray. The movie takes us as Murray goes on his own search to find which of his past lovers sent the letter. Jarmusch can be thanked for not turning this into farce or melodrama, but the point along the narrative spectrum (between laughs and tears) that he chooses is just too low impact. Spanish: [i][b]El Crimen Perfecto[/b][/i]... I recently discovered Alex de la Iglesia at a retrospective on his films. I saw [b][i]The Day of the Beast[/i][/b] and loved his hilarious critique of both the Catholic Church and "alternative" philosophies. So when I saw that his latest was being distributed in the US, I jumped at the opportunity to see another of his rip-roaring satires. I was not disappointed. This film about the perfect crime first shows us an imperfect one: two men who had vied for the same position at a Madrid department store come to blows after one wins and the other loses. The loser accidentally kills the winner and tries to conceal the whole thing. He almost pulls it off, but one of the women who works at the store decides to "help" him. For this ladies man, this wouldn't normally be a problem, but she's not the type of lady he's used to manipulating: she's ugly and she's smart. Iglesia's targets in this anti-romantic comedy (ie a film where the comedy lies in how unromantic their relationship is) are both masculine maschismo and the feminine ideal it perpetuates. Japanese: [i][b]A Tree of Palme[/b][/i]...This anime version of Pinocchio (where a puppet wants to be real) is unnecessarily confusing*. It's not set in some small village like the Disney version, but in some complicated science fiction dystopia engulfed in a unexplained conflict that drowns out the beauty of the allegory. Korean: [i][b]My Beautiful Girl Mari[/b][/i]...This is I think my first Korean anime (oh yeah) and I was struck by how flat the animation seems compared to Japanese animation. I'm not sure whether this is characteristic of most Korean animation, but I'm not really sure where this is going so I will stop.... The movie is set is a fishing village on the coast and centers on two boys who are best friends. One of them is going off to study in Seoul causing them both some anxiety. The main character, who lost his father in a storm at sea, doesn't take this very well. He seeks an escape and finds it in the mystical conjunction of a special marble and a lighthouse. He is taken, physically or imaginatively for the movie isn't always certain about which, to a plane of clouds and fluffy animals. There he meets Mari, a being of this mystical plane. At first they share curious glances and then something more. Their only teens so their love has a certain innocence. This is beautiful, albeit flat, movie. The broad vistas and flights through the clouds are richly colored and rendered.
Jerry Wysiwyg
A Tree of Palme (Parumu no Ki) Quotes
There are no approved quotes yet for this movie.