The Passion of Joan of Arc (La Passion de Jeanne d'Arc)
(1928)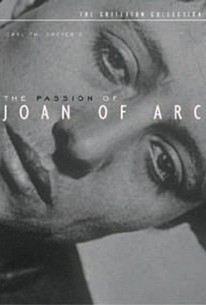 The Passion of Joan of Arc (La Passion de Jeanne d'Arc) Photos
Movie Info
The Passion of Joan of Arc (La Passion de Jeanne d'Arc) is widely regarded as Danish director Carl Theodor Dreyer's finest achievement and one of the greatest films of all time. Dreyer recreates the trial and execution of St. Joan with near-documentary authenticity, as if one were present at the actual 15th century event and both defendant and accusers were the genuine article. The director's use of huge, probing close-ups -- detailing every pockmark and even the saliva at the sides of the mouths -- adds a shocking immediacy which makes it hard to believe that this film is nearly 70 years old. As Joan, Renée Maria Falconetti (in her only film) transcends mere praise. The Passion of Joan of Arc is a silent film, but the original transcripts of Joan's trial are brilliantly conveyed by the pantomime of the actors. The film's title is supremely double-edged -- Joan's "passion" is shown to be as erotic as it is spiritual. ~ Hal Erickson, Rovi
News & Interviews for The Passion of Joan of Arc (La Passion de Jeanne d'Arc)
Critic Reviews for The Passion of Joan of Arc (La Passion de Jeanne d'Arc)
Audience Reviews for The Passion of Joan of Arc (La Passion de Jeanne d'Arc)
½
Very simple and minimalistic, yet very compelling and harrowing. What I found intriguing - and a bit bizarre, knowing how meticulous Dreyer could be - was that single shot where one of the priests was clearly seen wearing 20th century glasses. Why would he have left it in? Was it a reference to someone?
vieras esine
Super Reviewer
With breathtaking visuals and a potent story, it's hard to believe this was released in 1928.
Graham Jones
Super Reviewer
½
Four stars for the film, an extra half of a star for how utterly brilliant Falconetti is. Whether it was Dreyer's idea to make her kneel upon stone or her own prowess in acting that allowed her to give such a painfully passionate and nuanced performance, it is simply breathtaking. As for the film itself, it really never lets you go. Without any establishing shots, the viewer is plunged face first into the drama. From the accusers to the accused, there is a real sense of vehemence that all of the actors exude. It is passionate, relentless, and beautiful all at the same time. While I don't think I will revisit this more than one time in a decade, It is none the less an important film and displays the power that actors such as Falconetti can have in a film.
The Passion of Joan of Arc (La Passion de Jeanne d'Arc) Quotes
There are no approved quotes yet for this movie.
Discussion Forum
Discuss The Passion of Joan of Arc (La Passion de Jeanne d'Arc) on our Movie forum!