Pathogen
(2006)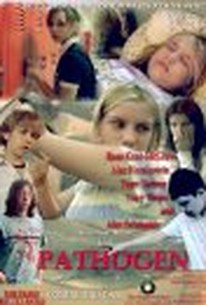 AUDIENCE SCORE
Critic Consensus: No consensus yet.
Movie Info
An infection which appears to be caused by a bacteria in the water turns out to be more. A fourteen-year-old student, Dannie, feels the real cause is linked to her recurring dreams. When the infection reaches an epidemic level. it becomes clear that this infection not only kills, but restores the body to a minimally functioning state where the infected become the "living-dead". This unique twist on the classic zombie theme, centers around the highly-intuitive Dannie Jacobs and a group of four other middle school students who try to save their friends, their town and themselves in spite of the odds against them. While they are desperately trying to find an answer before it's too late, they meet researcher Sue who may hold the key to the infection and Dannie's dreams.
Critic Reviews for Pathogen
There are no critic reviews yet for Pathogen. Keep checking Rotten Tomatoes for updates!
Audience Reviews for Pathogen
Pathogen (Emily Hagins, 2006) Pathogen is your typical micro-budget zombie movie, except for a few things. The first you will likely notice is that the average age of the cast is much lower than usual, even in the horror film world (where it often seems as if the average age of the actors isn't much greater than eighteen anyway). Then there's the gore factor, which is curiously restrained for a movie of this sort. Then there's the language, which has the same amateur ring to it as most microbudget horror flicks, but, again, has a restraint to it that's not common, to say the least, in the genre. So you get around to looking it up, and you find that director Emily Hagins made this film when she was twelve years old. So, yeah, something different here. We open to a news report about a biotechnology company who's working on a nanotech cure for cancer. Cut to a meeting where Sue (Rebecca Elliott), the head researcher on the project, is being told her funding is being eliminated, and why: instead of curing cancer, the nanotech is going after healthy cells. It quickly becomes obvious where this scene is going, and if this were a typical Hollywood zombiefest, you'd be able to write the next scene yourself without having seen it. But this is not a Hollywood movie, and the next scene gives us the first surprise. It's not especially subtle, graceful, or anything like that, but it's there, and that's what counts. In any case, the nanotech gets into the town's water supply, and people start getting sick. And worse. A group of middle school students find themselves to be, as far as they can tell, the last living human beings in the city. How to survive against hordes of zombies? There's nothing here that will surprise you a great deal in the forest, though some of the trees look decidedly original. And I know that as a reviewer, I'm just supposed to look at this as a movie, but I can't; how often have you seen a zombie movie directed by a twelve-year-old? Well, yeah, I've never seen one either, but I'm relatively certain they're not supposed to be this good. There's no deathless cinema experience here, but this is a solid, if exceptionally low-budget, first feature from a director who's got quite a future in front of her. (Her second film should be out later this year.) Definitely worth looking into if you stumble across a copy. ***
Robert Beveridge
One star for the little 12 girl who made this [which is a great thing]. But honestly, I'll never ever ever [deliberately] watch this again. It was an 1 and 7 mins., but it felt like it was 2 hours long.....
Mike Price
It's hard to really know what rating to give pathogen. On its own, it's pretty flawed. Indeed, the commentary almost plays out like a riff track with the actors pointing out the many problems with continuity, extras, props, etc. But the reason for this is the same reason I'm giving it such a high rating. It was made by kids. And not kid in the sense of Matt and Trey when they made cannibal the musical in college, but kids in the sense of just getting into junior high. Watching it is almost like watching someone learn to speak, or paint, or draw. Or anything which is going to eventually become second nature, and which has a strong tradition the person is unaware of. But for those first steps, the first paintings, they're unaware of it or only know about it in the pererpheral sense. In a real way those first tries are inventing the thing for the first time. And that's what we see in pathogen. Actors in their first roles, with one notable exception. Writers and directors who are only just figuring out what works and doesn't. But learning from the experience. In the process of start to finish you can see an amazing growth in everyone involved. Which is the other great thing about this movie - the love. The people in this movie obviously love being in it, and it's hard to not catch that feeling yourself while watching. It's totally clear that everyone is having a great time with it, and loving everything about the process. From the actor doing a little dance in the pizza line, to the hallways with a smattering of students all walking the same direction. They're all just obviously having a great time, and loving the process. The movie itself, on its own, is actually pretty good as well. Raw, obviously. Odd for some of the problems in filming, sure. But it works. I had fun watching it, wanted to know how it would turn out, and wanted to shake my first at the character when a reveal near the end came up. Also, watch the movie with commentary. You really don't get the full experience until you'e actually heard the experience of everyone involved. The cast watching the movie and talking about it really is as much a part of the movie as the actual plot itself.
John Emerson
Pathogen Quotes
There are no approved quotes yet for this movie.
Discussion Forum
Discuss Pathogen on our Movie forum!