Patriocracy
(2012)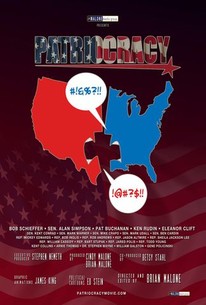 Patriocracy Videos
Patriocracy Photos
Movie Info
Americans are polarized and angry. In the crossfire, the loudest voices drown out reason and facts with fear and anxiety. Patriocracy explores the extreme polarization in America that cripples the country from tackling its most serious problems. Whether it's the national debt, healthcare reform, the war on terror or illegal immigration, Americans are shouting at each other instead of listening to each other. -- (C) Official Site
Rating:
NR
Genre:
,
Directed By:
Written By:
In Theaters:
On DVD:
Runtime:
Studio:
Cast
Critic Reviews for Patriocracy
Audience Reviews for Patriocracy
What a bunch of CRAP! It is no longer possible to pretend that the war on the middle-class does not exist. "Hard-line liberals", BS! Bernie Sanders is the one and only liberal in Congress. The Simpson deficit commission was a scam to further the movement of wealth to the 1%. It is true that both parties got us into this mess, but that is because both parties are owned by the 1%. Of course the "Internet" has been polluted with disinformation and that most people have no ability to divine fact from fiction. Remember that this failure of our Education System started in the Reagan Administration and continued with Bush's "No Child Left Behind". I am a member of Move-on. It was formed because of the stupid Republican impeachment of Clinton for having sex in the Oval Office. The Republicans applauded David Vitter who has a long record of using prostitutes. Move-on is focused on electing Progressive Candidates. The American Action Network is a front for electing more Republicans to Congress. The Debt Crisis was generated by the Republican party to destroy Social Security and other "safety net" programs. The compromise was a huge loss for the Democratic Party and President Obama. The "both sides" argument no longer works. It is similar to a husband who beats his wife every night saying "its all her fault." John Stewart and Stephen Colbert are making fun of the political process, but 99% of the time it is the Republicans who are the focus of their wit. Mickey Edwards suggestions are nothing new. The question is "How?" No Labels, Joe Manchine and John Huntsman, more status quo. It sounds great when you first read about it, but when you look into it further, there is no "there, there". No one willing to take a stand against the Economic Royalists who are stealing the wealth of our country. None of the personalities portrayed on the screen have made any honest efforts to actually "do" something. What do they stand for? Who knows? They just want us to all "get along" and if your poor and need health care, well ... just die and stay out of my view so I don't have to think about you. The close focused on talking heads claiming that America is "Greatest Country on Earth". That only means we have more bombs than anyone else. Our healthcare sucks, our internet sucks, our transportation system sucks. Tedious Propaganda that offered no solutions and papered over the causes of our country's problems. OMG! I forgot... ruck.us sells wireless. Why is this "documentary" telling us to go to their web site? Oh, I get it, it was because they existed once upon a time for about 10 seconds as a group that "did something". What they did, who knows?
John Zwiebel
½
It is a fair and balanced assessment of the ever-widening political extremes in American politics and the loss of moderate representation. The film explains the inefficiencies and problems that arise when our elected officials are so extreme and cannot work together. It traces the problem back to why the voting base is continuing to elect such difficult and uncompromising representatives. Negative effects of political talk shows and saturation of opinionated media warp the public's perceptions in concerning ways. This alone is not the only issue in this matter, but this documentary is correct in saying it is a major problem. I appreciate the diversity of viewpoints from former and current politicians of both parties as well as some news representatives. It offers simple solutions for viewers to be critical of what they see and read. The message is worthwhile but sadly, people with interest in this documentary are probably already aware of the concerns it raises.
Russell Guest
½
This documentary makes some good points, but misses one key and important point altogether. The documentary continually claims that crazies on both sides left and right are drowning out the middle. What it neglects to realize is that there is no left (at least none that have any real representation) in this country and the middle is not the middle anymore. That is how far to the right we have drifted as a country. The right has been taken over by authoritarian conservatives. We're heavily lopsided to the right in this country for expressly that reason. The filmmakers still seem to think that the political spectrum is where it was 50 to 60+ years ago, when that is simply not the case any longer. "[...][S]ince when did wanting to keep the environment clean, help sick and old people, fight for the equality of every tax paying American citizen, and strive for peace, become 'extreme' positions? This is essentially the Democratic platform in a nutshell. These people aren't 'extremists' by any stretch of the imagination. Wanting to gut regulations that protect consumers, businesses, the environment, leave sick, poor, and old people to die in the streets, start wars to 'preeminent' attacks IS extremist." - Stacy Rogers (a reviewer of this doc.) Couldn't have said it better myself Stacy!
Matthew Solano
Discussion Forum
Discuss Patriocracy on our Movie forum!
News & Features