The Patsy
(1964)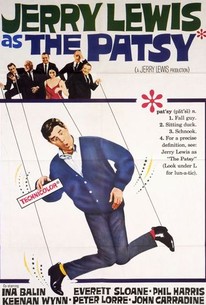 Movie Info
Jerry Lewis plays a dim-bulbed bellhop who, after an extraordinary series of events, finds himself being groomed to step into the comical shoes of one of the country's best young comedians.
Critic Reviews for The Patsy
Audience Reviews for The Patsy
***Due to the recent RT changes that have basically ruined my past reviews, I am mostly only giving a rating rather than a full review.***
Steve Smith
½
Not very funny or even good for that matter. Jerry Lewis movies are usually better than this. (First and only viewing - 10/3/2014)
Adam R
½
They simply want to make you a star. When a star comedian dies, his comedy team and producers decide to band together and try to turn a bellhop into his replacements. The bellhop is a huge work in progress as he has no rhythm, he's a bit of a scatter brain, and he has no sense of timing. They try to work with him, hire him teachers, and give him opportunities and he's a repeat failure. Will all their work go for not or can the bellhop become a star? "You really like the simple things, don't you?" "Yeah, the difficult ones always give me trouble." Jerry Lewis, director of The Nutty Professor, The Bellboy, The Ladies Man, The Family Jewels, One More Time, The Day the Clown Cried, and Cracking Up, delivers Patsy. The storyline for this picture is really not very good and fairly annoying. The characters are just okay and the script was mediocre. I also thought the acting was fairly mediocre and the cast includes Jerry Lewis, Peter Lorre, John Caradine, Everett Sloane, and Phil Harris. "You sound like a man with thirty good questions and never any answers." I DVR'd this picture because Peter Lorre starred in the movie and I generally enjoy his character. I have never been a fan of Jerry Lewis' brand of comedy as I generally find him annoying and not overly funny. This film was annoying but did contain an interesting love subplot. Overall, this was an average picture that I wouldn't go out of my way to see and is very outdated in terms of brand of comedy. "A star is born." Grade: C
Kevin Robbins
The Patsy Quotes
There are no approved quotes yet for this movie.
Discussion Forum
Discuss The Patsy on our Movie forum!