Qun long xi feng (Pedicab Driver)
(1989)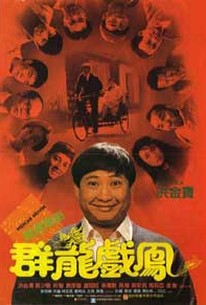 AUDIENCE SCORE
Critic Consensus: No consensus yet.
Movie Info
Hong Kong filmmaker (Sammo Hung) directs and stars in this film about a pair of bumbling, but likeable pedicab operators. When the two find girlfriends, one of the women turns out to be a prostitute, and the heroes run afoul of a local gangster. The film blends slapstick comedy, romance, and martial arts genres. ~ Jonathan E. Laxamana, Rovi
Rating:
NR
Genre:
Directed By:
Runtime:
Critic Reviews for Qun long xi feng (Pedicab Driver)
All Critics (2) | Fresh (1) | Rotten (1)
Pedicab Driver doesn't handle its transitions from comedy to melodrama as smoothly as, say, Hung's Heart of Dragon (1985), but it is still, in nearly every respect, one of his best.

Audience Reviews for Qun long xi feng (Pedicab Driver)
"The film is like a battleground. Love. Hate. Action. Violence. Death. In one word . . . emotion."-Samuel Fuller, "Pierrot Le Fou" Before "Kung-Fu Panda" there was Sammo Hung, who is a burly martial arts action star, and in "Pedicab Driver" a five star director who knows how to throw his weight around without missing a beat. Like Jackie Chan (who he choreographed fight sequences for), Hung combines physical comedy with self propelled stunt work, showcasing both the fury and the funny. In 1930's Macau, China two rival groups of pedicab drivers negotiate how to split up the cities work, half will take passengers, and the other half will take cargo, and civil war is nearly averted until a chef chases a cat into the room and all hell breaks loose. The subsequent battle seamlessly recalls both "Star Wars" and "The Three Stooges", without loosing any of it's frantic energy or becoming a parody. Pedicab Driver is first and foremost a Hong Kong action film, but while watching it you don't get the sense that each scene is designed to introduce a new excuse to fight. Some sequences, like the battle in the gambling den, do seem non-sequitters, as we never return to that set or it's characters, but the execution of this scene is so flawless that you rarely ease back from the edge of your seat long enough to mind let alone gripe. Sammo and his friend "Malted Candy" are passenger drivers, who both fall in love in with different girls at the same time. Sammo has to compete with a lecherous baker to win the heart of his girl in classic slapstick fashion. While Malted Candy's story, which is minimized early on but expanded later, takes the form of a romance, and then a tragedy once it's revealed that his love interest is not all she seems. This does not have the makings of a great tale, but it is very much a great movie, that handles these stories with a poise that genuinely enhances the action sequences, which are almost submerged under the story and characters (a rarity if not a freak, for an action film of this caliber). Yes, the bad guy is ugly, the good guy is handsome which is all very obvious, but Sammo is big ol kung fu teddy bear, whose agility and lightening fast speed belie his Chris Farely physique, and it's his performance which elevates the movie into something amazing. The comedy is funny, the romance is sweet, and the action is one of a kind combining the best of martial arts cinema, with an easily accessible drama that makes us care about the characters and their pains, joys, and inevitable revenge. Pedicab Driver is badass and brutal at times, but never sacrifices the charming lightness that makes the movie so enjoyable and gratifying in a way few of it's exciting peers (then and now) permit themselves to be. It's the type of film that gives the impression that everyone involved was enjoying themselves by effortlessly doing what I do best. This joy pours from the screen, and it's hard not to become immersed in it. I recently watched another HK action film featuring Sammo called "Zu: Warriors Of The Magic Mountain" and though it had similar sizzling combat (though largely artitifial; wire or animation driven), it lacked a humane element, like reading a dry translation of an ancient myth. Pedicab Driver has a face, and a heart, and a fist, and watching them collide is a true joy to behold. I challenge anyone to not be entertained by this movie. Go on, I dare you! http://doormouseetc.blogspot.com/2009/12/joys-of-bieng-hung.html
Joseph Sylvers
As much as I love Jackie Chan's films, and as much as I realize that Bruce Lee is probably the greatest martial arts star ever, my heart pretty much belongs to everybody's favorite portly kicker Sammo. And Pedicab Driver is his finest work, my favorite martial arts film ever, and one of my favorite movies ever. It starts off as a light-hearted comedy, becomes a romantic drama, and ends in almost heroic bloodshed territory. And for the whole film Sammo is putting all that he loves about movies in between and it shows on the screen. And did I mention the fights? From an early barroom brawl between the pedicab and taxi workers, to a dizzying pole fight with Lau Kar-Leung(Maybe the best fight ever filmed) to a final knockdown drag out beatdown inside a gangster's mansion, Pedicab Driver delievers on that front in spades. It's a classic of the genre, a hidden gem in Hong Kong films, and the best movie from one of the best dudes to ever emerge from Hong Kong films. Just wonderful.
Lauren ORourke
½
While Sammo's Benny Hill-esque humour is a bit dated, and the change of pacing halfway in the film feels a off, this is pure old school HK magic. Sammo deserves all the credit for directing some of the most kick ass fight sequences in HK history. Couple that with the most rotten villian i have seen in a while and you have yourself a winner.
Tsubaki Sanjuro
Super Reviewer
Qun long xi feng (Pedicab Driver) Quotes
There are no approved quotes yet for this movie.