Peeping Tom
(1960)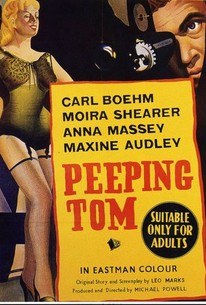 Movie Info
Mark Lewis, assistant cameraman at a London film studio, aspiring movie director, part-time taker of pornographic pictures, and amateur documentary film-maker, has begun murdering women. He kills them, literally, with his camera and films the attacks and the murders. He also surrepititiously films what he can of the police investigation. At night he carefully screens and edits the footage. This is his great documentary, his life's work. Mark leads the police closer and closer so that he can film the denouement, his own imminent capture and suicide.
Rating:
R
Genre:
, ,
Directed By:
Written By:
In Theaters:
On DVD:
Runtime:
Studio:
Astor Pictures Corporation
Critic Reviews for Peeping Tom
Audience Reviews for Peeping Tom
½
Well directed and acted but deeply disturbing even today. No wonder it was considered so shocking in its day.
Over the years, there have been so many films to be hailed as the precursor to the Slasher film. Alfred Hitchcock's Psycho has had a profound influence on the genre, creating many imitators such as Black Christmas and Halloween to name a few. Michael Powell's Peeping Tom was highly controversial at the time of its release, prompting an end to his career in cinema. This is a stellar work of filmmaking and it was the first film to feature the murders in the killer's POV (as referenced in Scream 4). This is a stunning piece of cinema that not only is a classic of horror, but is also a classic of cinema. This film suggests only what the mind can't see, and in turn makes it much more unrelenting on the viewer. Peeping Tom is the perfect example of a film that uses atmosphere and suspense to create the mood and tone of the film, which is a technique that would be used in the early Slashers of the 1970's. Peeping Tom was a film that truly was ahead of its time, and it seems pretty tame nowadays, but back then, this was a film that caused a stir, but with that said, it revolutionized horror thrillers forever and added a much needed dimension to the genre. This film took risks and pushed the envelope and over the years, you can clearly see how this film influenced a genre. Like Psycho, this remains a benchmark of horror filmmaking, and in turn reinvented the rules. Karlheinz Böhm's performance is stunning as Mark Lewis, the killer who has an appetite for beautiful women who kills them on camera in a voyeuristic style. This is a brilliant film that genre fans will surely enjoy. Peeping Tom is often overlooked as it was certainly eclipsed by Psycho, which was released the same year, and wasn't as vilified as this film. In terms of a horror picture, Peeping Tom succeeds on many levels, and is a unique and standout film that revolutionized the genre forever. Michael Powell has crafted a fine picture using atmosphere, thrills and suspense and leaves your imagination to fill in the blanks, which is far more terrifying.
½
'Peeping Tom' follows Mark Lewis, an introverted voyeur living in his father's large London property. To help make ends meet, Mark lets part of the house out, one of his tenants being Helen Stephens, a sweet young woman who befriends him out of pity. Throughout the film Mark struggles to conceal his voyeuristic, murderous habit. Unfortunately, poor acting from almost the entire cast sorely date 'Peeping Tom', I didn't believe in any of the characters. Like many films of the era, the acting issue is pervasive; there are both wooden and overacted performances. However, thanks to Carl Boehm's generally competent performance, Mark Lewis is the only interesting, somewhat credible character, but even he is guilty of being badly stilted in places. The film's premise does indeed concern mature themes, however the backlash it faced in 1960 seems rather amazing today. Clearly, the film is going to date, it's 52 years old, but so is 'Psycho', and that fares far, far better today. To think this film was given an '18' certificate as recently as 2001 is nothing short of baffling. The film doesn't even begin to disturb, to say it lacks a visceral edge is to understate, I have never seen a film lose its punch so completely. The BBFC have since given the film a '15' certificate, however I think a '12' rating is more appropriate. The only thing that's noteworthy about this film is its historical audacity. This film was addressing themes that didn't become mainstream until the 70s, a time of rapidly changing opinions on sex and violence. If it had been released 15 years later and not championed by Martin Scorsese and various critics, it may well have faded in obscurity. 'Peeping Tom' is full of terrible acting, stripped of credibility and largely devoid of tension; the film has undeservedly become a critics' darling.
Jack Hawkins
Super Reviewer