Películas para no dormir: La culpa (Blame (6 Films to Keep You Awake))
(2006)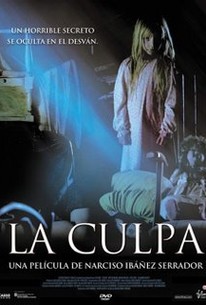 AUDIENCE SCORE
Critic Consensus: No consensus yet.
Movie Info
Originally produced as part of the Six Films to Keep You Awake horror series from Spain, Who Could Kill a Child? director Narciso Ibáñez Serrador's Blame follows a hospital nurse as she goes to work at a private clinic that isn't what it first appears to be. Ana is a respected gynecologist who works at the same hospital where Gloria is staffed as a nurse. In addition to working at the hospital, however, Ana also runs a private clinic out of her home. As fate would have it, the nurse who used to work at Ana's clinic has recently moved on, leaving open a space for Gloria should she choose to take it. Ana and Gloria have been close friends for quite some time, so when Ana invites Gloria and her daughter Vicky to move in as well it seems like a perfect fit for all involved. At first glance the clinic seems comfortable and cheerful, yet a closer look reveals that something sinister is alive within those open and airy walls. Just as Gloria settles in to her new abode, Ana drops a serious bombshell: The "private clinic" is actually a clandestine abortion clinic, a mysterious place where truth, pain, life, and death all exist simultaneously. Neither the patients nor the doctors here are ever truly alone, and by the time Gloria discovers the horrible secret that dwells in the room upstairs it's already far too late to turn back. ~ Jason Buchanan, Rovi
Rating:
NR
Genre:
, , , , ,
Directed By:
In Theaters:
On DVD:
Critic Reviews for Películas para no dormir: La culpa (Blame (6 Films to Keep You Awake))
There are no critic reviews yet for Películas para no dormir: La culpa (Blame (6 Films to Keep You Awake)). Keep checking Rotten Tomatoes for updates!
Audience Reviews for Películas para no dormir: La culpa (Blame (6 Films to Keep You Awake))
½
It was raining and almost dark this past Sunday. I consider myself quite the movie critic, so I cruised through the FearNet free movies to see what I could find to freak me out. I found the title which was simple enough to tell me that it wasn't some super cheesed up slasher film or teen sex adventurama. "Blame", with a pretty decent description under the title, which fooled me to think that this was going to be viewing a dark and artsy movie. I am one of those who think they can tell what the movie will be like within the first ten minutes. For me, this film was under that specification. It was enthralling enough to keep me watching through the entire film, yet left me so empty handed at the end, it was almost a total waste of story. My boyfriend was napping on the couch, and woke up around halfway through the movie. Did I mention this is a Spanish film with subtitles? I can't ever get him to read anything, never the less, let me get through a subtitled movie, yet he kept watching and didn't even seem to notice it. I could see he was as enthralled by the film as I was, a light attachment to the characters and storyline and a kind of sfumato set effect with B movie attitude that didn't bother me one bit. Finally he asked 'What's this?' As I mentioned previously, it was halfway through the movie. I answered him with only a few sentences, and it shocked me how much and how far I was into this movie, yet how little had been going on. In our common chat I told him: "A nurse and her daughter move in with her doctor friend who is an OBGYN. The doctor is trying to lez out with the nurse, but she's obviously a straight and it's kinda freaking her out. There's a crazy lady next door, oh, and the doctor does house call abortions." YET NONE OF THIS PLOT WAS PURSUED. Dr. Ana, who is pushy at recommending abortions to her young spanish patients, is also a great doctor. She treats the women with care and respect, which I thought may be a cover up for when they are sedated. When the nurse, Gloria, finds out that she is pregnant from her last relationship, Ana gets angry and tells her not to follow through with it. There's a large emphasis that '3 months' is the longest that an abortion can be done safely. Gloria finally comes to Ana at 3.5 months and asks her for the procedure (after telling her daughter Vicky that she was going to have a little brother). So does this entail that there will be complications? Before I go on, let me emphasize how weird the relationship was with doctor Ana and Gloria. Ana is very kind to Vicky, Gloria's daughter, and it's very clear that Ana wants a family relationship with Gloria. But who is Christina? Christina, Christina, this name keeps coming up, and it's hinted by the crazy neighbor spinster that Christina was Ana's last 'friend' who stayed in the house, yet she is never seen or really spoken of after that. Ana, the doctor, is in a very controlling position over Gloria, who is working for and living in Ana's home. I thought for SURE that beyond a reasonable doubt Ana was going to go absolutely nuts on Gloria and become very possessive and controlling. Yet even when Gloria agrees to have her procedure done by Ana, there is no faltering moment of horror implications, there was no hinting at foul play or anything but professionalism from the doctor. I was suspecting a lesbian rape, and this movie was having none of that weirdness. Gloria has a strange abstract and symbolic dream while under sedation that plays upon the religious values of typical Spanish peoples which is probably the most profound part of this film, yet was still crude and simple in my opinion. All goes well, and just when I start to question the true fearnet nature of this movie, the Gloria's fetus disappears before Ana can dispose of it. Okay, I can accept this. Demon fetus, bring it on. Vicky, the adorable daughter of Gloria is informed that there may not be any baby, and while she is creeping around in the attic, she acquires a nifty tin box that she begins to carry around obsessively. THERE'S A FETUS IN THE TIN BOX PEOPLE! I couldn't stop shouting it in my head. FINALLY, this is what I've been waiting for, some creepy shit from a subtitled movie with passionate spanish actresses (who did a pretty good job of keeping us watching throughout). Yet at the climax of Ana's controlling personality, she demands to look in the box, and it's discovered that there was only a photo of a mother and child, and that Vicky is just upset about not having a baby brother. So, out of the factors I expected I can cross off 'killer abortion doctor', 'crazy controlling lesbian' and 'fetus in a tin box' off the list. Leaving the only other explanation of the weird happenings and creepy thriller music to be the crazy spinster neighbor and her paralysed spinster sister. Nope. A patient is killed after a procedure while Ana is out of the room, and then after some bits and pieces, Ana is herself killed by a small unseen being on the top shelf of the kitchen. Demon fetus sliced a bitches throat? Okay. Can I at least see this thing? Nope. The movie ends on such disappointing terms I can't even remember all of the finale. I give this movie a 2.5 rating out of 5. Although this was far from causing any type of fear, it kept me watching the entire time, I can not place enough emphasis on how surprised I am to have watched this entire movie, but they succeeded. I don't know if simpler minds or people who frighten easier enjoyed this movie and found it to be truly thrilling, but I did not. I told myself it was a solid 3 star movie, just because of the writing and directing, BUT I can't deal with a half psychological-thriller Spanish-religious-who-ha scare. Although I have seen movies far far worse, this is the most disappointing movie to be under the categories of "lesbian, nurse, abortion, and attic".
K Vance
½
This one is from the Collection of 6 films to keep you awake at night. When the single mother nurse Gloria (Montse Mostaza) has financial difficulties, her colleague and friend Dr. Ana Torres (Nieve de Medina) invites her to move with her six year-old daughter Vicky (Alejandra Lorenzo) to her old big house where she runs a gynecologic clinic. In return, Gloria would assist Ana in her clinic in the afternoons. Sooner Gloria finds that Ana dedicates to abortion in her clinic, and also that she is lesbian and has a crush on her. When Ana gets pregnant of her lover Javier, Ana proposes an abortion, and after more than three months, the reluctant Gloria accepts her offer with tragic consequences. The underrated "Películas Para No Dormir: La Culpa" is a macabre and very well constructed tale of guilty and madness with an intriguing screenplay with an unpleasant but realistic theme and a surprising plot point. The director Chicho explores the great cast (unknown in Brazil) and the characters are perfectly developed, with magnificent performances of Montse Mostaza, Nieve de Medina and the promising Alejandra Lorenzo. My vote is seven.. 3 1/2 stars 3-30-13
Bruce Bruce
Super Reviewer
Ironically included in the "Six Films to Keep You Awake" series, I found it difficult not to fall asleep while watching this plodding Spanish flick. It's not really a horror film at all. There's nothing in the film to suggest what happens at the clumsy climax. A profoundly unsatisfying clunker of a movie. I blame director Serrador for this 75 minute long sedative about a fetus going missing after an abortion.
Brian Seitzman
Películas para no dormir: La culpa (Blame (6 Films to Keep You Awake)) Quotes
There are no approved quotes yet for this movie.