Películas para no dormir: Regreso a Moira (Films to Keep You Awake: Spectre)
(2006)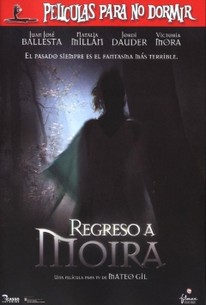 AUDIENCE SCORE
Critic Consensus: No consensus yet.
Movie Info
An elderly writer visits the small coastal village where he was born and raised. He reminisces of his childhood, and the beautiful, mysterious woman he's been unable to forget. As he walks through his old village he catches ghostly glimpses of the same woman, and recalls the dark story of their forbidden love affair.
Critic Reviews for Películas para no dormir: Regreso a Moira (Films to Keep You Awake: Spectre)
There are no critic reviews yet for Películas para no dormir: Regreso a Moira (Films to Keep You Awake: Spectre). Keep checking Rotten Tomatoes for updates!
Audience Reviews for Películas para no dormir: Regreso a Moira (Films to Keep You Awake: Spectre)
½
After living abroad for over forty years, Tomás (Jordi Dauder) decides to go back to his small Spanish village because someone has sent him a tarot card. The card, labeled los amantes, is an important symbol from his youth. Cut to sixteen-year-old Tomás (Juan José Ballesta) and his two friends (David Arnaiz, Adrián Marín) discussing a woman named Moira (Natalia Millán) while supposedly studying. Though new in the village, she has received a reputation of being a whore. Because of the hot weather, one of them suggests that the possibility of her naked is likely so they sneak up to her house to spy on her. Meanwhile, the adults have reason to believe that Moira is a bruja, a witch. Though not particularly scary, "Regreso a Moira," written by Mateo Gil and Igor Legarreta, is a beautifully made picture. It juggles the past and the present with rhythm; it is more concerned about telling a story that is rooted in the reality of its characters, posing questions, and answering them rather than delivering jolts. It does have some creepy moments involving ghosts but if the more obvious supernatural elements had been taken out completely, it would have preserved some of its mystique. A specific time and place is created. Its approach in telling the story is intercutting older Tomás' return with younger Tomás' first time falling hard for a woman he barely knows. Since more than half of the film takes place in the past, we get used to images of open spaces: the dried grass of summer, the heat settling on one's skin, and the wind providing temporary comfort. When it does cut to the present, the same place looks a lot smaller: the open field is replaced by modern buildings and the silence is taken over by sounds of vehicles and chattering of people passing by. But just like how it is in real life, though geography changes significantly, a few things remain unchanged. I enjoyed the way young Tomás' sexuality is treated. Eventually, an intense attraction grows between Tomás and Moira, but it is consistently tender and never perverse. The latter direction would have been so tempting because the woman is at least ten years older than the boy. Instead, the director helms the memory almost like a dream, thereby allowing a genuine sensuality to be felt and thought about. When Tomás touches Moira's naked body, there is an innocence that is conveyed right down to his fingertips. We get the sense that the filmmakers know how it is like to love someone. It does not quite work as a straight forward horror film. It is typical in that the ghost appears in places we might expect like in a hotel bathroom and in the backseat of the car. Because I felt what was coming, I was not shocked or horrified. I did feel a bit creeped out, however. As a mood piece, it works. The camera has an inclination toward lingering on certain images. "Spectre," directed by Mateo Gil, works because it is mostly rooted in drama. It deals with real emotions by employing the supernatural as a backdrop. If in-your-face ghost encounters had been taken out in place of a meaningful exploration of the community's devotion to their religion, it might have made a stronger statement about what it means to be human and trying to find some sense in something that appears to be unexplainable or beyond understanding. Film-Review.org
Franz Patrick
½
A slow moving ghostly horror film. Told as two parallel tales about the same character -- as a teen experiencing first love and small town small-mindedness and superstition, and as an old man returning to the village of his youth and learning that the superstition may not have been all wrong. The two stories come together just before the ending that was intended to b e a shock but that I saw coming. Reminds me in many ways of Japanese horror films.
David Duncan
½
This was my first experience of the series of Spanish TV horror films collectively entitled 6 Films To Keep You Awake, and I was really somewhat surprised by how much it struck me, how affecting I found it. It tells of an old man, Tomas who is sent a Tarot card and returns to his childhood town in order to see who sent it, remembering as he does so his teenage romance with a lonely lady who he befriended. Thought the film at first gives the impression that it is due to be more spooky, as it goes on it moves away from horror territory, it is more a slow burning and poignant look at young love, its consequences and the passage of time, it has supernatural accoutrements but the film is mostly drama and it does remarkably well in its small run time. Writer/director Mateo Gil spins a compelling tale rich in hot, languid atmosphere, the flashbacks that take up much of the film hum with a sad, nostalgic longing but the modern day scenes have a contrasting adept chill. The performances all come off nicely, Juan José Ballesta has the appropriate shades of lust, curiosity and naiveté as young Tomas while Jordi Dauder is drawn and tired as his older self. Natalia Millán is very fine as the lonely and beautiful Moira, sensual, mysterious and kindly, mixing attraction and inscrutability very well. Decent performances come too from David Arnaiz and Adrián Marín as friends of young Tomas, and slightly frayed, colder turns from José Ángel Egido and Miguel Rellán as their older counterparts. The film is a little predictable and its scope is slight, but I found myself unusually moved, its quiet chills, and classic story combined with beautiful presentation and ever useful messages (against jealousy, superstition and mob mentality) make for a thoroughly classy and enthralling time. Well recommended for those who enjoy MR James style horror or creepy drama fare, though fans of fast paces and boo scares should avoid. 4 1/2 Stars 4-9-13
Bruce Bruce
Super Reviewer
Películas para no dormir: Regreso a Moira (Films to Keep You Awake: Spectre) Quotes
There are no approved quotes yet for this movie.
Discussion Forum
Discuss Películas para no dormir: Regreso a Moira (Films to Keep You Awake: Spectre) on our Movie forum!