Películas para no dormir: Cuento de navidad (Films to Keep You Awake: The Christmas Tale)
(2005)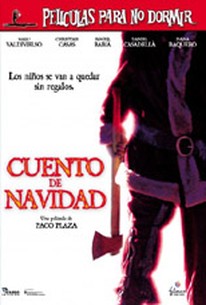 AUDIENCE SCORE
Critic Consensus: No consensus yet.
Movie Info
Paco Plaza, the Spanish horror heavyweight behind such deeply disturbing frighteners as REC (with Jaume Balaguero) and Second Name, shows that the seeds of cruelty are more sinister when planed early in this tale of a desperate thief trapped in a well, and the children who go back on their promise to help her out. A group of children spending the holidays in a summer resort village are playing in the woods when they make a most unsettling discovery: A woman dressed in a Santa Claus outfit is trapped at the bottom of a very deep well. Upon approaching the local police for help, the kids discover that the stuck Santa is actually a dangerous thief who has recently disappeared following a daring heist. According to the cops she made off with a substantial amount of cash, a revelation that prompts the kids to go back to the well and begin bargaining in monetary terms. Should the thief give up her will give up the cash, say the kids, they will help her out of the well. It seemed like a straightforward plan, but once they had the cash in hand the kids find themselves reluctant to follow through on their end of the bargain - who's to say that she won't snatch the cash right back and kill them all once she gets free anyway? While they make the decision not to free the woman, they return to the well day after day to feed her and look after her. With each passing day the woman's forced captivity begins to more closely resemble torture, her body weakening due to a steady diet of children's food and her mind growing unhinged due to the grimness of her situation. Then, one day, the children return to find the well empty. Santa is coming for them, but this year instead of waiting by the chimney they'll be running for their lives. ~ Jason Buchanan, Rovi
Critic Reviews for Películas para no dormir: Cuento de navidad (Films to Keep You Awake: The Christmas Tale)
There are no critic reviews yet for Películas para no dormir: Cuento de navidad (Films to Keep You Awake: The Christmas Tale). Keep checking Rotten Tomatoes for updates!
Audience Reviews for Películas para no dormir: Cuento de navidad (Films to Keep You Awake: The Christmas Tale)
This is part of the 6 Film Series of Films to Keep You Awake at night, This is a neat little film, Spanish horror well written story line would like to see more of these type films on the US market. This is not your usual Christmas Story, but an excellent slasher / horror film. A group of kids discover a passed out Santa in the bottom of a well, what they find out its a she and she has just finished robbing a bank and the kids put her threw hell to find out where the money is, after they find out where the money is, she dies or does she, is she coming back as a zombie, the ending is really twisted and the make up is over the top, Got to give this one 5 stars
Bruce Bruce
Super Reviewer
This is the second time I've seen this movie. I really enjoyed it. It was pretty funny, and the acting was pretty decent. The plot was very....interesting, kind of weird, but original. The only problem with the movie I had was the very end. The ending sucked, and it still leaves you with a bunch of unanswered questions. At the end, it's not at all clear about what happened, so there's some confusion. Other than the ending, it wasn't bad. Definitely one of the better FearNet movies I've seen. It's definitely worth a watch.
A good and highly watchable little film. "The Christmas Tale" takes place in a Spanish coastal town over the Christmas of 1985. It involves five children (one of which most of you will now as Ofelia from "Pan's Labyrinth") who find a woman dressed as Santa Claus trapped in a hole in the woods. They soon find out that she is actually a wanted criminal who has just stolen a load of money. Hopeful that they will get the cash themselves they leave the woman in the hole with no food until she decides to give it to them. The kids then become divided as to whether to leave her there or get her out, yet two of them, inspired by the film "Zombie Invasions" perform a voodoo ceremony leading to some terrible consequences. At only 70 minutes long the story never loses your attention, and being set in the 80s there are some great cultural references. The kids themselves are like a Spanish version of The Goonies and there is an amusing parody of old zombie films. There is also a great scene where the woman is waiting in an empty disco, axe in hand, looking for the children whilst "Yes Sir, I Can Boogie" plays over it. This film is actually part of a Spanish TV series called "Six films To Keep You Awake". Whilst I haven't seen the rest, if they are anything like "The Christmas Tale" they will be worth seeking out.
Películas para no dormir: Cuento de navidad (Films to Keep You Awake: The Christmas Tale) Quotes
There are no approved quotes yet for this movie.
Discussion Forum
Discuss Películas para no dormir: Cuento de navidad (Films to Keep You Awake: The Christmas Tale) on our Movie forum!