Pelle the Conqueror (Pelle Erobreren)
(1988)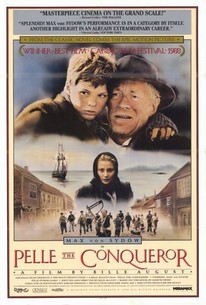 Pelle the Conqueror (Pelle Erobreren) Videos
Pelle the Conqueror (Pelle Erobreren) Photos
Movie Info
Long but rewarding, the Danish-Swedish Pelle the Conqueror is based on the early passages of Martin Andersen Nexoe's four-volume novel. Pelle (Pelle Hvengaard) is the son of a 19th-century Swedish farmer (Max Von Sydow). Seeking escape from their poverty-stricken surroundings, father and son emigrate to Denmark. Upon arrival, however, they are treated like indentured servants, leading to a profound ideological turnaround for the impressionable Pelle. In the original novel, Pelle ended up embracing Communism. Nexo's political overtones are soft-pedalled in the film, which concentrates on the close, indestructable relationship between Pelle and his father. Adapted for the screen by Bille August, Pelle the Conqueror won the 1988 Oscar for Best Foreign Language Film.
Audience Reviews for Pelle the Conqueror (Pelle Erobreren)
A father and son move to a Denmark village where they try to make ends meet amid poverty and few opportunities for advancement. Heart-breaking and stark, Pelle the Conquerer is a strong coming-of-age film featuring an incredible performance by the legendary Max von Sydow. Von Sydow captures his character's desperate search for hope and a future in his most vulnerable performance to date. The film is able to get its audience to believe in these characters' chances despite the fact that the film simultaneously creates a world in which hope seems ridiculous. The murder of peasants, the anti-Swede prejudice, and the domineering overseers all combine to add to cold, desolate milieu. Overall, Max von Sydow and the atmosphere of this film make this film a remarkably compelling story.
Jim Hunter
Super Reviewer
I remember Max Von Sydow at the Oscars as the afterthought as I'm sure most of the Academy had not taken in Pelle the Conquerer. It is an epic to sit through but it is fully deserving of recognition of the one of the better films to come out of the eighties.
John Ballantine
Super Reviewer
Pelle The Conqueror was another good movie I have seen during this week. Eventough it was 2.30 hours long it was a beautiful journey of a father Lasse played by Max Von Sydow, and his son, Pelle,after they moved from Sweden to have a better life in Denmark.But what they have found was a brutal and hard life.Working on a farm Pelle and his father struggled to survive. The movie was more than just their life on this farm. It was about the dreams of this young boy and his ambition to see America.The end was a little confusing for me, when Pelle needed to move on from his father to discover more from life. Amazing movie.
Daisy Maduro
Super Reviewer
Pelle the Conqueror (Pelle Erobreren) Quotes
There are no approved quotes yet for this movie.
Discussion Forum
Discuss Pelle the Conqueror (Pelle Erobreren) on our Movie forum!