Penumbra
(2012)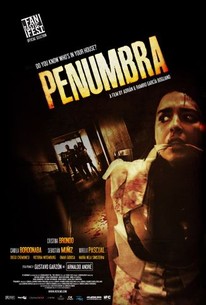 Movie Info
Marga is a highly motivated, arrogant and successful business woman on assignment in Buenos Aires - a city she hates and whose people she loathes. While in the Argentina capital on a day the whole population is waiting to view a rare solar eclipse, she must also find a new tenant for her family's decrepit apartment. Rapidly losing her patience waiting for one applicant, she runs into the mysterious Jorge lurking outside the front door of the place who informs her that he has a client willing to pay four times what she is asking in rent. There's one catch - the paperwork must be signed immediately. As greedy Marga waits to complete the transaction, several of Jorge's associates suspiciously appear at the apartment ready to strip the wallpaper. And what's behind the decor signals a startling fate worse than death - or should that be life! -- (C) IFC
Critic Reviews for Penumbra
Audience Reviews for Penumbra
½
Part of me really wanted to like this film, and in a way I did. While I found Marga to be a completely insufferable and infuriating character it is sort of refreshing to see this type of character portrayed. But at the same time it does make rooting for her particularly difficult when she's accused of a crime she didn't commit, if you take the film at face value without looking for any subtext. Cristina Brodo does a fine job in this film, her character is just the most unlikable person in the entire film. Yes...even more unlikable than the supposed villains. At the same time, the movie is most definitely one that will test your patience. You could argue that nothing really happens until the last 20 minutes of the film and I wouldn't disagree with you. But the movie does have a good sense of how to build a mystery and for the most part the film gets by on its intrigue and Cristina Brodo's character. But even with that, the movie doesn't do much, if anything it's kind of a shame because the film could've been much better. The plot isn't entirely inventive, but I thought the with way the film was set-up that the movie would've been better. I thought the pacing was a bit off and the ending wasn't really satisfying as it's completely out of left field and doesn't really fit with the rest of the film. Having a good mystery and a good story are two different things, and that's the problem here. The film simply doesn't have a good story. Because if it did, I don't think the film would've tested my patience as much as it did. I found this to be an average horror flick with some good ideas and solid performances but with a flat ending and uninspired storytelling.
Jesse Ortega
Super Reviewer
Penumbra Quotes
There are no approved quotes yet for this movie.
Discussion Forum
Discuss Penumbra on our Movie forum!