Peppermint Candy (Bakha satang)
(2000)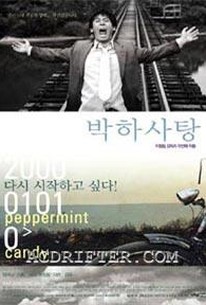 Movie Info
An intense, emotional masterpiece of Korean New Wave, Peppermint Candy is told in reverse, taking the viewers back through 20 years of a doomed man's life, while chronicling the sentiments and changes of modern Korea.
Rating:
NR
Genre:
,
Directed By:
Written By:
In Theaters:
On DVD:
Runtime:
Studio:
Asian Crush
Critic Reviews for Peppermint Candy (Bakha satang)
Audience Reviews for Peppermint Candy (Bakha satang)
The problem is the lack of a plot. The film meanders along and expects you to care for the lead character, rather than giving you a reason to.
Marcus Woolcott
Super Reviewer
Yeong-ho wants to kill himself, and then he does. That's the first ten minutes sorted, then the next 110 minutes shows how he became what he became, by going backwards through the previous twenty years of his life. As one of the few reverse chronology films, it's definitely worth a watch, though I found it harder to get involved fully in his life when such a large time span was being covered with a handful of key moments. The sweetness of the final scene stays though.
½
Peppermint Candy is a film that is all about character development and if you like this type of drama you will enjoy this movie.
The span of the plot takes place from 1979-1999. Let me rephrase that. The span of the plot takes place from 1999-1979. Yes, the twenty years of one man's life is told in 130 minutes and in reverse order. It all starts in 1999 with the demise of our main character, Yong-Ho. As the film progresses, or reverses, you get to see how Yong-Ho ends up the way he does.
The nice thing about the storytelling is the fact that you get to see not only the change in Korea, but the change in character for Yong-Ho. A lot does happen in 20 years after all. On the flip side, there is nothing really eventful, with the exception of the 1980 segment near the ending. If you are not able to appreciate the slow burn drama, this will be a huge bore. Believe me when I say that 2+ hours of this doesn't fly by.
The soundtrack is mellow and appropriate while the camerawork is professional. Both of these help with the success of this film.
Kyung-gu Sol heads the film and does a nice job at changing personalities from the beginning to the end. The 2 female leads, So-ri Moon and Yeo-jin Kim, do good jobs as well.
Peppermint Candy takes a nice approach with the storytelling and it deserves the attention that it gets. Too bad it isn't exciting enough for someone like me.
Peppermint Candy (Bakha satang) Quotes
There are no approved quotes yet for this movie.