Perceval
(1978)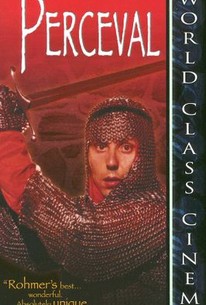 Movie Info
This film, set in the Middle Ages, follows the exploits of Sir Perceval, a legendary exemplar of chivalry and a member of King Arthur's Round Table. The story is based on the verse tale Perceval ou le Conte del Graal, as recounted by the 12th-century French novelist Chrétien de Troyes.
Rating:
NR
Genre:
,
Directed By:
Written By:
In Theaters:
On DVD:
Runtime:
Critic Reviews for Perceval
Audience Reviews for Perceval
½
Eric Rohmer creates a very theatrical and stylized film about the travels of Perceval, a young Arthurian knight. The film wavered between being amusing and being intolerable.
Natalie Metzger
I wouldnt recommend this one unless you are a staunch Rohmer or medieval European poetry fan. It has its qualities to be sure but they will all fall on the deaf ears of the uninitiated viewer.
Christopher Wisniewski
½
Here is precisely why the upcoming 'Tristan' movie has my stomach in knots. Perceval aka Parzival, with several versions (Eschenbach & De Troyes being the best known, as well as an enormous opera by Wagner) is another of the great medieval stories. It deals with a youth of noble birth, brought up in the woods by his mother to be ignorant of all things knightly, because combat took his father's life. He is all set to do that, until a troop of knights enters the forest and he decides he wants to join the ranks at the Round Table. From there, this young fool, full of compassion, goes on a quest for the Holy Grail. The Rohmer version presented here is interesting on paper. The cast has some pedigree, the Perceval is a good choice. Rohmer is critically praised, and he adapted the source material into modernized French but kept the poetic structure of De Troyes' original language. So it would seem to be a home run, right? Wrong. The thing that kills this story is that it is staged as a trite little medieval play, complete with a tiny stage, little chorus band on authentic instruments, and also silly costumes. As the story unfolds, the acting is stilted, the sets out of a fifth grade play, and the band a pathetic accompaniement. One gets the sense of "Waiting for Guffman in Armor", and it all falls flat. They also cut out much of the context for why Perceval seems a young fool at first (isolation, mother's volition) that makes his ridiculous behavior in the book understandable, but here totally absurd. If 'Tristan' follows the same tack of picking the wrong artistic approach or improper cutting of the source, then it will be sunk too. These films rely so much on the context of the time, and the plots are so integrated, that judicious cutting and writing are in order, or else! Then again, what did you expect from the French, a culture that is incapable of making great movies. All the big revered directors had one or two really good/great films and many duds (Godard, Renoir, Jeunet, Cocteau) or none at all: Melville is boring, Rohmer cliched, imports Bunuel & Dreyer stink. There are some solid French filmmakers: Dassin, Fonteyne, Kassovitz, but only one is great: the incomparable Francois Truffaut. Then again, his work isn't very French, lacking the reams of analytic thought or pithy aphorisms that mar most French films, like Godard's recent turkey 'Eloge a L'amour'. Nor is he obsessed with weirdness or graphic depictions, like Jeunet, Besson, or the nauseating Ozon & the *disgusting* Noe. If only all these guys tried to imitate Truffaut rather than 70's Scorsese, France might have a decent national cinema. So here's hoping that the latest 'Tristan' adventure avoids being a disaster like the 1978 'Perceval'. The crew adapting it seems better this time around, especially not being French, but this outing from the 1970 reveals just how wrong things can go when adapting a classic story. I want a 'Tristan' movie worthy of its predecessors, not one to rank with the turkeys of today.
Mark Bower
Discussion Forum
Discuss Perceval on our Movie forum!