Perfect Blue
(1999)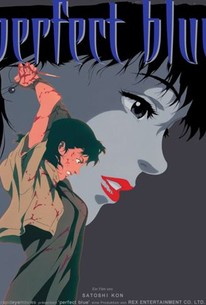 Movie Info
Mima was a pop idol, worshipped by the masses until fashion dictated otherwise. In order to salvage her career, she is advised to drop music and pursue acting. A soap opera role is offered but Mima's character is less clean cut than desired. Regardless, she agrees and events take a turn for the worse. She begins to feel reality slip, that her life is not her own. She discovers (imagines) her identical twin, a mirror image that hasn't given up singing. Internet sites appear describing every intimate detail of her life and a figure stalks her from the shadows. Her friends and associates are threatened (and killed) as Mima descends into a dangerous world of paranoid delusion. She fears for her life and must unravel fact from illusion in order to stay alive. Perfect Blue represents a major change from traditional anime subject matter, analysing the pop icon phenomenon, fame and its psychological impact on the performer.
People Who Like this movie also like
Critic Reviews for Perfect Blue
Audience Reviews for Perfect Blue
Classic Hitchcock cat and mouse game with Lynch-ian surreal imagery. A major influence in Aronofsky's "Black Swan".
Pierluigi Puccini
Super Reviewer
Satoshi Kon's mastery in suspense shines here in this psychological thriller that constantly keep's its viewers on their toes. What's really great is the blend of realism into this animated film to the point where the surreal, bizarre portions aren't overwhelmed with suspense of disbelief.
Drake Tsui
Super Reviewer
Perfect Blue is like a Giallo animated movie that's like a "Dario Argneto" Flick but with more gore and its animated, I remember "Opera" when I was young with the girl and the nails under her eyes that was just frighting how she is forced to watch her friends be slaughtered. Or the bird with the Crystal Plumage how the "killer" tries to murder the witness by running him down with his car. It's all frighting stuff by what about this? As I stated it an animated Italian Giallo film how a famous singer is being stalked by a crazed fan. I myself am a big fan of "Giallo films" and Italian flicks in general not boring Asian cinema unleased the film interest me or I catch it on TV like a normal person. Now this is the kind of movie that I knew I was going to love I don't like anime that much but I just hate to view this. Mima Kirigoe is an actress on a long road to "success" she plays rape victim's and even works for a few dollars an hour but after a long time she hits her goal and becomes a hit with her music. But that's not the only thing she is being seeming stalked by a person in a rain coat who even tries to run her down in their car and they push one of her friends out a window, Her past is about to catch up to her as a private detective and her start to dig around and only find the guilt of her past and the ghost in her memory she tried to keep out. The movie makes a lot of references to Dario Argneto's movies but overall I really liked the idea as Japanese's "Giallo" film. So the references are obrevsly.... *Like all Argento's movies Killers with black Gloves and in Rain coats. *Close up's of the killers hands. *A person remembering a memory and using it in the story. *Victims come crashing throw panes of glass. *The movie ends were the story starts. The list can go on and on for any fan. So yes I loved the story okay. The animation quality is just amazing you can see every amazing bit of detail object there in high quality. As well as the blood that "splatters" everywhere and on everything. And I really loved the trick with then camera to catch all the detail like in Dario's Suspira with the music simply just amazing. The voice dubbing I am a bit mixed on but overall high stuff that everyone will love, never seen the English dub though. The characters are just your" Dario Argneto" people and there even muddled after some of his characters in his films. Our lead Female is model after Jessica from Suspira and her detective is after David Hemmings character in Deep Red. So overall very likeable with all the personality, OH and the killer big "Argneto" thing. I come to a close and I think I have said everything.
Ariuza koraw
Super Reviewer
Perfect Blue Quotes
There are no approved quotes yet for this movie.