The Perfect Sleep
(2008)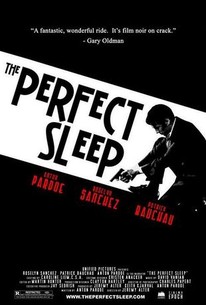 Movie Info
After a 10 year absence a man returns to his home town to protect the woman he loves from their mutual enemy who seeks to finally end a long standing war between their families.
Critic Reviews for The Perfect Sleep
Audience Reviews for The Perfect Sleep
This movie's title seemingly refers not to anything within the movie, but rather where it will leave its audience. While the cinematography and the sporadic self-referential humor are assets here, the unending, droning voice-over narration and exposition are too much. There is seriously about an hour and twenty minutes worth of explaining the plot convolutions and then a quick and entertaining climax. The end of the film belongs to a much better movie. Perhaps taking a cue from the title, most of the actors seem to somnambulate through their roles. Only Patrick Bauchau as the primary antagonist impresses.
Ben Ritchie
Is this suppose to be funny? Lame.
Dead Angel
Super Reviewer
a bit on the sllloooowwwww side but everytime you are about to go god this is slow it picks up enough to keep you interested...the doctor in this is funny evn though he is not supposed to be...the ending a little predictable but good enough to not feel like you got ripped off...
Matt Berley
The Perfect Sleep Quotes
There are no approved quotes yet for this movie.
Discussion Forum
Discuss The Perfect Sleep on our Movie forum!