Perfect Victims
(2008)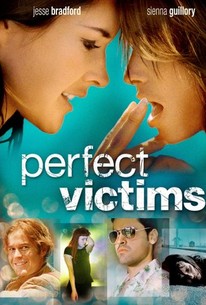 AUDIENCE SCORE
Critic Consensus: No consensus yet.
Movie Info
Two college students compete over a beautiful woman, and at the same time, indulge in drugs and reckless behavior.
Critic Reviews for Perfect Victims
There are no critic reviews yet for Perfect Victims. Keep checking Rotten Tomatoes for updates!
Audience Reviews for Perfect Victims
Perfect Victims is about two best friends Jack and Freddy who try to get into a fraternity. The movie focuses mainly on Jack who had a rough life as a child, and is now a drug addict. Freddy and Jack both have feelings for their childhood friend Anne which causes a strain on their friendship. Jack has some dark secrets that he can't remember because he's so doped up all the time. The plot points don't really connect, I know. None of the characters are likable. Jack is a douche and a half that is so fucked up he can't remember what he ate for breakfast. Jack is always saying "What happened? Man, I don't remember what happened last night". It's really frustrating watching a character that can't even get with the program. He's a walking contradiction. He's trashed more often than not, yet he's apparently super intelligent. Makes no sense. While Jack is an oblivious idiot, his best friend Freddy is a filthy rich ass who only cares about fucking his childhood crush Anne. Anne is not likable either; she's a deceiving bitch that pretends to be so sweet and innocent. There are also two other characters Vera the whiny slut, and some other boy, a drug addict more screwed up than Jack, whose name I cannot remember. Besides the horrific cast, the plot itself is not clear or consistent. Because Jack is a drug addict, he has many hallucinations and black outs. The movie throws in events that are Jack's "hallucinations", but doesn't tell you they are hallucinations until the end. The hallucinations don't make sense, and confuse the hell out of you. They contribute little to the actual storyline, and it seems they were just included in order to add more time to the movie. The plot is very, very boring. The main point to the movie is that Jack did some bad things that he can't remember (due to drugs), and he has to try to remember what those bad things were. It's so uninteresting; I fell asleep at some parts. I knew I wasn't missing anything. There is a plot twist, but it's kind of an "uh, duh" predictable twist that isn't worth watching this entire movie for. The movie throws in flashbacks at random parts of the movie. Sometimes it's hard to tell which scene is a flashback and which scene is in present time. The director could've made it clearer; the movie is just a jumbled up mess of hallucinations, flashbacks and bad acting. Movie isn't worth seeing. Skip it for sure.
Perfect Victims Quotes
There are no approved quotes yet for this movie.
Discussion Forum
Discuss Perfect Victims on our Movie forum!