Permanent Record
(1988)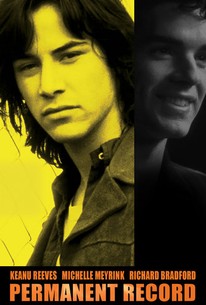 Movie Info
High school student Alan Boyce has it all: looks, charm, popularity, excellent grades, a promising future. So why does Boyce abruptly commit suicide? As the shock waves of the boy's death reverberate through the halls of his school, the other students--particularly Boyce's best friend Keanu Reeves--ask themselves if they, too, are capable of self-destruction. As for the adults, Boyce's suicide is one more of a myriad of mysteries concerning "Generation X" (though it was not yet so labelled in 1988). While the film offers no easy answers, either for the characters or the audience, Permanent Record ultimately demonstrates that there are ways to cope with the pressures of life other than taking one's own life. An added bonus: the teenagers in the film act like genuine teenagers, not like TV sitcom wisecrackers or oversexed cretins.
Rating:
PG-13
Genre:
Directed By:
Written By:
In Theaters:
On DVD:
Runtime:
Studio:
Paramount Pictures
Critic Reviews for Permanent Record
Audience Reviews for Permanent Record
½
Between a 6/10 and 7/10, this isn't much more than a conscientious TV-movie drama, with a rather maudlin climax, but the performances are solid.
Lee Mayo
½
Many films and television series have tackled the issue of teen suicide over the years, but few have done so with the grace and dignity of "Permanent Record". This is a little seen, deeply moving feature that deserves a wider audience. It gives little clues into why the Allan Boyce character here commits suicide, and it doesn't purport to have all the answers. That only enhances the film's realism. In the opening scenes, Keanu Reeves is distracting as he was seemingly prepping for his next big role in "Bill and Ted's Excellent Adventure", but there is a lot more going on with his character than meets the eye. His affecting performance is the dramatic center of the picture, and you greatly sympathize with him. I also appreciated the adults in the film, especially Richard Bradford as the school's principal. It would be easy to make him and the parents the enemy here, but they are grieving too and actually understand the students. There is a wonderful scene where an anguished and intoxicated Reeves nearly kills Boyce's younger brother and he finally breaks down to his friend's father. The drama culminates in the film's final scene at the school play, where a fragile and delicate Jennifer Ruben breaks character and pays beautiful tribute to her fallen friend, and it's the highlight of the actress' burgeoning career. The subject is stale, but "Permanent Record" has a fresh voice that remains as impactful today as it was upon its initial release. It's a small film that will stay with you.
Timothy Sanders
wow. im surprised more people dont talk about this movie, i guess maybe many haven't seen it? its quite good and keanu gives a very strong, heartfelt peformance. if people dont think he can act, they should really see this movie.
Anna Bartsch
Permanent Record Quotes
There are no approved quotes yet for this movie.
Discussion Forum
Discuss Permanent Record on our Movie forum!