Pet
(2006)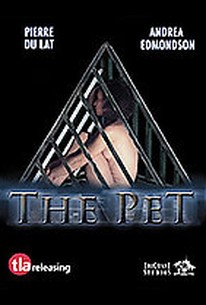 AUDIENCE SCORE
Critic Consensus: No consensus yet.
Movie Info
Rating:
NR
Genre:
On DVD:
Critic Reviews for Pet
There are no critic reviews yet for Pet. Keep checking Rotten Tomatoes for updates!
Audience Reviews for Pet
Is it a sign that I am maturing as a movie critic that I can love a film's theme on a deeply personal level and still not love the film? Most reviews that I've seen for The Pet discuss its "shocking" content. For many, no doubt, this will be the case. The Pet deals with the rarely-addressed topic of consensual human slavery, and explores this concept with very good attention to setting, direction and mood. Unfortunately, it fails in most other areas, and because of these, I cannot recommend this film, even not at all being personally shocked by its content. The Pet can best be compared to Secretary, a movie that explored very similar concepts. Both dealt with powerful men looking for someone to train to their purposes, and finding it in a woman on the one hand meek and shy, and on the other full of the strong internal reserve necessary to see her offer for what it is: a chance to leave behind the burdens of an often ugly world with ugly people, and let someone else do the thinking for her, in exchange for her keeper's unconditional love and care. And the Pet does have moments where it shows the beauty of this relationship well. Unfortunately, unlike Secretary, these moments are mostly fleeting. On the whole the Pet is awkward, at times it's awfully contrived, and overall it leaves the viewer with a feeling that they've just watched an amateur film. There are two targets for blame, and the first is Andrea Edmondson, who plays Mary, or eventually "GG". Put bluntly, she can't act. Now let me be clear and say that I'm easier on actors than most movie critics, and I know I probably couldn't do much better. But especially in a movie where the central conflict is a psychological one between her and her owner Philip (Pierre Du Lat), this constantly snaps us out of whatever spell The Pet tries to cast. She's unable to tap into the nuances of emotion that are so important to understanding her choices; and as a result, we are unable to tap into her. A second problem that critically compounds this is the film's screenplay. The Pet does a good job at showing you the elements of GG and Philip's relationship. What it doesn't do well is tie them together. GG goes from perfectly docile to angrily denouncing her treatment to stripping right back down again and (literally) kissing Philip's feet without giving us any of the moments of contemplation in between in which you see her do the math necessary to make these internal adjustments. In Secretary, all of the film's best dialogue was unspoken. It was in the silent but deafening stares between Edward and Lee that their power battle raged. All those are gone here. Combined with Edmonson's emotive problems, this makes her character simply unreachable, and thus undermines The Pet's central goal of understanding why someone would willingly choose this life. All this is not to say that this movie doesn't try. The Pet is filled with sundry images, situations and side characters waiting for a solid foundation from which to hang. Philip is both a bit better realized and acted. Though he could also use more subtlety in all areas, as well as maybe a solid flaw or two, his love for his pets is obvious and seductive. Other characters are even more effective, best among these perhaps being James (Aaron Patrick Freeman) a friend who deals primarily in the non-consensual side, raising his own pet acquired as payment of debt. Perhaps the best "character" in the movie, however is Philip's home. A sprawling castle, he is a modern day Citizen Kane still looking for his Rosebud. When he finds it in Mary, who he renames GG for "Good Girl", and we see her curled out in his gently cruel tetrahedron of a cage, we feel his poetic power, and thus, start to understand her loyalty. His world is one of brilliant beauty. As we sink into it, it's not hard to understand how anyone would want to, especially when contrasted against her frat-boy jerk of a boyfriend. But then in some of these secondary characters the film starts to fall apart again. Charles is such an utter prick that we can't even imagine how anyone would want to date him. And James's pet Taps was Nicky, and Nicky's boyfriend is so eager to just fork her right over as partial payment for his debts (and she is so quick to accept) that our disbelief unsuspends. Over and over we see what the elements of this world, but over and over again, they are thrown in with so little thought about flow that we can't accept them. This is a true shame given that the film attempts to further address this concept by throwing in a audacious subplot. Philip is shown to be part of a powerful and sinister subculture of human trafficking. It shows, in other words, what actual slavery looks like, and how dangerous a game it is to keep these two worlds apart. And if it wasn't obvious just from the story itself, the movie's opening and closing title screens leave nothing to the imagination. Slavery is not having a choice, it boldly preaches, following with a long list of countries and what is believed to be their role in this trade, including the US. Few movies are as clear about their message as this one, and in that sense, it does make its point effectively. "Those are the slaves. Leave this girl alone," The Pet indirectly implores us. We're hard-pressed in watching this to come up with an effective reason to ignore this admonishment and stick our nose in where it appears its clearly not wanted by anyone involved. This side story factors into the movie's conclusion, and the shame of the movie's shortcoming's becomes apparent then, as a ending of true poignancy is dulled by how forced the plot was in arriving at it. And as we see final shots of GG playing naked on the beach, we see The Pet's central missed opportunity. Whatever her other flaws, once Edmonson goes all the way, we truly see a pet. She embodies it. We want to love her the way we love any pet, and we feel Philip's pride and affection for her. But since we really can't feel how she got there, we ultimately miss out on that chance. If you want to see a movie that explores the complexities of the chosen unequal relationship, see Secretary. Only see The Pet if you want to specifically see what could be so attractive about being one, and you're willing to wade through some very well-meaning but ultimately flawed cinema to get there.
Robert Chesnavich
Discussion Forum
Discuss Pet on our Movie forum!