Pet Shop
(1995)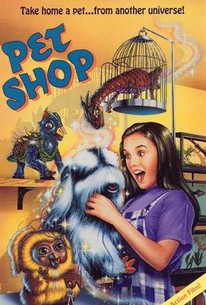 AUDIENCE SCORE
Critic Consensus: No consensus yet.
Movie Info
A family finds themselves on the run from danger both on earth and from outer space in this sci-fi comedy for the family. Joe Yeagher (Terry Kiser) is a plumber from Brooklyn who is placed in the Federal Witness Protection Program after testifying in court against some wise guys from the neighborhood. Joe, his wife Marilyn (Joanne Baron), and their kids Charlie (David Wagner) and Dena (Leigh Ann Orsi) are moved to Cactus Flats, a small town in Arizona, one step ahead of Mafia hitmen Babe (Nino Surdo) and Curley (Leonardo Vincent Surdo). Lonely in their new town, Charlie and Dena visit a local pet shop run by Mr. and Mrs. Zimm (Jeff Mitchalski and Jane Morris), where the kids discover a number of strange and wonderful animals for sale. But they soon discover that the Zimms and their critters are all visitors from another planet, and that the humanoid aliens plan to take the Earth children back to their planet and sell them as pets. Can the alien animals and FBI keep Charlie and Dena safe?
Rating:
PG
Genre:
, ,
Directed By:
Written By:
On DVD:
Runtime:
Studio:
Moonbeam Entertainment
Critic Reviews for Pet Shop
There are no critic reviews yet for Pet Shop. Keep checking Rotten Tomatoes for updates!
Audience Reviews for Pet Shop
The Band boys, Charles and Albert, have been making movies for years, most of them decidedly sub-standard. They really found their opportunity to corner the market on bad horror and sci-fi films when they founded Full Moon Features. Not wanting to exclude anyone from their terrible, cheaply made films, they then formed Moonstone Films, a kid's division. One of their first features under this new banner is "Pet Shop", a dreary and embarrassing mixture of several other genre films. Everything about the film is cheap, from the lousy special effects to the lame humor to the hammy acting. The kids here are all horrible, with the possible exception of lead Leigh Ann Orsi. I don't know is she really comes from Brooklyn or not, but she sure nails the accent and the attitude perfectly. In a film that is completely devoid of any kind of entertainment value, she's a charmer. The special effects, however, are another story. These "charming" creatures are ridiculous. You could go into any Walmart in the country with twenty bucks and buy a toy that looks more realistic than any of these things. The claymation California raisins move more fluidly than these animatronic stuffed animals. The direction drags like a lead balloon, but what would you expect from Hope Perello? Only Charles Band would have given her another shot after directing "The Howling 6: The Freaks". The only thing the films have in common are how awful they both are. With "Pet Shop", Band has grossly underestimated his audience. Kids these days are a lot more sophisticated than this ridiculous material. They'll hate it, but for adults, this is a terrible punishment.
Timothy Sanders
Basically the love child of E.T. and Prehysteria. Fans of either would probably find this entertaining. The animals were so weird and it's just a weird movie period, but what do you expect? It's almost like an Invasion of the BodySnatchers for tweens.
Conner Rainwater
Super Reviewer
Discussion Forum
Discuss Pet Shop on our Movie forum!