Pete Seeger: The Power of Song
(2007)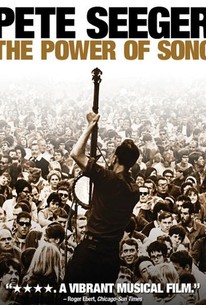 TOMATOMETER
AUDIENCE SCORE
Critic Consensus: Pete Seeger: The Power of Song is both a tribute to a legendary singer and an informative account of the birth of American counterculture.
Pete Seeger: The Power of Song Videos
Pete Seeger: The Power of Song Photos
Movie Info
A social history through the life of one of this country's most significant folk artists of our time: Pete Seeger.
Rating:
PG (for some mild thematic material)
Genre:
, ,
Directed By:
In Theaters:
On DVD:
Runtime:
Studio:
The Weinstein Company
News & Interviews for Pete Seeger: The Power of Song
Critic Reviews for Pete Seeger: The Power of Song
Audience Reviews for Pete Seeger: The Power of Song
A Career Older Than Many Grandparents Today, George Takei posted the obituary of a man who had personally saved the farms of three Japanese families during World War II. The families were, of course, interned, and if there were no one to pay mortgages and property taxes, the families would lose the farm. It happened to a lot of families during the war. This man quit his job and moved into the barracks intended for migrant farm workers; he kept the farms going, paid the bills, and only kept half the profits despite the families' agreement that he could keep all of it. The other half, he gave to the families. So what does he have to do with Pete Seeger? For one thing, this was a man quietly doing what needed to be done instead of what was most convenient. For another, Seeger's wife, Toshi-Aline Ōta, is herself of Japanese descent. She and Seeger married in 1943. She was not interned at the time. I don't know why and would quite like to. Pete Seeger was born in 1919 to a musical family. His parents believed in spreading music to the masses, but it didn't take them long to discover that the masses had plenty of music of their own. The Seeger family got involved in folk music, and they have been ever since. Pete, what's more, got involved in the betterment of the masses beyond just sharing music. He became a Communist because he thought the Communists would do better for the people. (Well, in the '30s, that made a bit more sense, I suppose. A lot of people were fooled by Stalin, and US Communism was different.) Later, he got involved in the Civil Rights Movement, introducing "We Shall Overcome" to Dr. Martin Luther King, Jr. As time passed, he became something of a poet laureate to the folk movement. He was blacklisted because of that past Communism, but he never entirely regretted it. He may have been the first to see the true junction of music and activism, and he helped others see it as well. I have never been hugely familiar with his work, to be honest. He was a guest on [i]Reading Rainbow[/i] once, performing his own song and story. However, about the only folk music we listened to when I was a kid was Peter, Paul, and Mary. Even that was primarily when they did PBS specials; I don't really remember just listening to their music. (Now that I come to think about it, I don't remember Mom just listening to music very often at all.) However, I'm quite aware that the music I came to listen to myself would not have existed as it did without Pete Seeger. It isn't just Peter, Paul, and Mary or Joan Baez, though they're the most noteworthy examples. It is also, among other random examples, the fact that David Bowie initially performed as a folk singer when he was first getting his start in music. It's the influence Bob Dylan had after himself having been inspired by Pete Seeger. It goes on like that, because music history tends to overlap in that fashion more than I think most people realize. I suppose one of the obvious problems with conveying such a rich and varied life as that of Pete Seeger in one brief documentary (only about an hour and a half) is that Seeger is also quite old. There is a lot of life both in what he did and how long he has lived; even a single decade of his life could easily take longer than this documentary provides. We only get a few minutes about his touring the world; the only person I can think of who has been to nearly as many countries is Michael Palin, and he got about six hours for a mere eighty days. We get ten or fifteen minutes of the honours he has gathered in recent years; about as long is dedicated to his time with The Weavers. There are many interviews with people he has known over the decades, including family members and students, but there is a great deal of life to be covered, and the film is too short. Of course, that's often a problem even with shorter, less crowded lives. For nearly ninety years, Pete Seeger has been singing to change the world. Before him, that seemed impossible. Even today, there aren't a lot of people who manage it. Yes, the world of music changes all the time; the influence of musicians isn't straightforward. There are plenty of fans of both who would be shocked to discover a trail leading from Pete Seeger to Daft Punk, but it's there if you know what to look for. However, despite only having met Dr. King twice, Pete Seeger did have influence on the history of the Civil Rights Movement. His fight to overturn his conviction for contempt of Congress helped shape legal history. He has fought to improve the environmental standards of the Hudson River. Even when people don't agree with him, they have a hard time ignoring him. Over many decades, he has had a unique role in transforming the face of the United States. However, this documentary is not a full portrayal of the power of the man, and not just because it never talks about his wife's experiences during World War II.
Edith Nelson
½
im certain pete seeger is one of the greatest men of out time. a moralistic and spiritual human being in every since of the word. in the almost 90 years he's been alive he has been completely unwaivering in his drive to bring people together, and to change the world. a true inspiration.
Atlas of id
½
Special in that it goes beyond the music/celebrity and into the simplicity of the man's life. Unfortunately, it doesn't make for such a fascinating portrait.
J M
Pete Seeger: The Power of Song Quotes
There are no approved quotes yet for this movie.