Petite Cossette Le Portrait
(2004)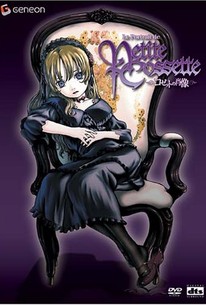 AUDIENCE SCORE
Critic Consensus: No consensus yet.
Movie Info
Eiri, the art student-hero of the Gothic OVA Le Portrait de Petite Cossette ("The Portrait of Little Cossette," 2004), falls in love with the mysterious image of a girl he sees within a Venetian glass goblet. As his fascination grows, he learns that Cossette was murdered 250 years ago by her artist-fiancé Marcelo. The spirits of the objects that witnessed her murder have been seeking revenge, and they torture Eiri, who may be the reincarnation of Marcelo. While this mayhem is taking place in an alternate reality, a modern girl who loves Eiri attempts to rescue him. Director Akiyuki Shinbo fills the gaps in Mayori Sekijima's muddled screenplay with collages of images that suggest bargain-basement Salvador Dali: butterflies, ruins, dolls, clocks, crescent moons, gears, and crucifixes, all awash in a sea of blood. But the pretentious visuals and artsy camera angles can't disguise the feeble storyline and underdeveloped characters. (Rated 16 and older: violence, grotesque imagery, brief nudity, tobacco use) --Charles Solomon
Critic Reviews for Petite Cossette Le Portrait
There are no critic reviews yet for Petite Cossette Le Portrait. Keep checking Rotten Tomatoes for updates!
Audience Reviews for Petite Cossette Le Portrait
Le Portrait de Petit Cossette is a very, very enjoyable OVA series, certainly one of my favorites of the medium. Brooding and splendid elegance faulted by some quirks in the plot and a fairly dry cast of characters. I'll probably buy this when it comes stateside too, simply because it's something really nice that I think I'd like to own...and I rarely buy anime.
Drew Smith
Super Reviewer
Petite Cossette Le Portrait Quotes
There are no approved quotes yet for this movie.