Phantasm: Lord of the Dead
(1994)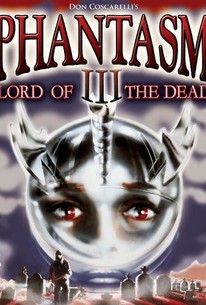 Phantasm: Lord of the Dead Photos
Movie Info
In this horror movie, a courageous hero finds assistance in strange places as he fights an evil alien.
People Who Like this movie also like
Critic Reviews for Phantasm: Lord of the Dead
Audience Reviews for Phantasm: Lord of the Dead
½
Third film in the Phantasm series a bit more elaborate than the second one, and it definitely tries to do something different. Director Don Coscarelli returns in the director's chair, as it is only fair considering that Phantasm is his pride and joy. He does a good job yet again with this one, and Reggie is on the hunt of The Tall Man once again as he gathers new souls for his Dimensions. Towns have been abandoned, and only a few remain because The Tall Man has ravaged the towns and has taken prisoners as his slaves. Although not as great as part 2, this third entry still has plenty of the goodies which make the Phantasm films so entertaining to watch. The steel ball, the gore, and of course Angus Scrimm as The Tall Man. Well written, and confident in terms of a third movie, director Don Coscarelli provides fans of his previous two entries with a good array of demented fun that is sure to delight horror hounds. The characters are well rounded out and there's also a tone of humor in some scenes, which adds an extra layer to the film. Most horror sequels fail to live up to the original, and that is the case for any genres as well. However, instead of pumping sequel after sequel every two years, Don Coscarelli takes his time to write and direct something that is actually worth seeing. With each big gap between films, he lets more ideas come to life and therefore, it makes the series have much more life. As far as I'm concerned, this is among the greatest series in the horror genre. The film is well made and Don Coscarelli scores another winner with his sinister, evil Tall Man.
This is definitely one of the best horror movies there is. (Of course, you've got to see the first two, but this movie in particular is great!) If you have seen the uncut-version, it seems fairly obvious that Don Coscarelli did well this time, mixing up "traditional" horror-spooky things with some kick-ass action. Especially Reggie Bannister, who repeats his role as the ice-cream seller(!), is great and it's clear to see that the whole cast had a lot of fun doing this movie. A MUST SEE for any horror film fan.
Cassandra Maples
Super Reviewer
My favorite Phantasm flick! Black humour has taken over the serious tone from the previous installment. A similar road picture to Phantasm II, but it seems lower budget with a lot more humour. It's a shame they instantly killed off the character I liked from Phantasm II. It's also a shame James LeGros didn't reprise his role as Mike; simply for the sake of consistency. New interesting characters are introduced to the team to fight the Tall Man. The whole deal feels cheaper and cornier than the previous entry, which is probably why it played at few theatres. But, like I said, it's my favorite; probably because it features the largest Masoleum in the country as the venue for the showdown with the Tall Man.
Lafe Fredbjornson
Super Reviewer
Phantasm: Lord of the Dead Quotes
There are no approved quotes yet for this movie.